Start Your Own Race to College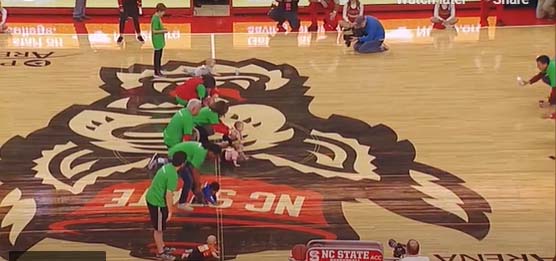 The feeling of excitement is in the air. The thrill of anticipation is on the faces of thousands. The signal is given, and the crowd erupts in a deafening roar. The racers are off, and fans cheer the contestants toward the finish line. The first racer reaches the end and the stadium explodes into applause. The winner looks over the crowd and smiles triumphantly. They let out a giggle and a shrill cry of jubilation. The winner is speechless because they cannot speak. This is because the winner is a baby.
The Diapers to Dorms Dash held by North Carolina's National College Savings Program (also known as the NC 529 Plan) is one of the most fun and exciting events you'll find in sports, and it's all for a good cause. Babies from around the state of North Carolina gather for a good-natured race to raise awareness for this valuable program, enjoy some sports and hopefully get a boost in their own savings.
The road to college starts at birth. With an NC 529 Account, you can give yourself, and your child, a head start saving for college.
It's Never too Late or too Early
Plenty of people might think that they don't need to start saving for college until a child is closer to high school. There are also many people that already have children in middle school or high school that think it's too late for saving to make a difference. Both trains of thought couldn't be further from the truth.
Just like it's important to start looking at daycares before your child is born, you should also be thinking about how you'll pay for college. With an NC 529 Plan, parents saving just a small amount every month will be surprised by how it can grow into a sizable college fund.
More than a Savings Account
Everyone knows that an NC 529 Account is a great way to save for college, but it's so much more than a savings account. That's what makes an NC 529 Plan so effective. Your NC 529 Account is a complete investment vehicle designed to help you get the most out of your college savings. You will receive a full range of investment options so that you can determine what works best for you and your family.
Maybe you want to start early with an aggressive savings plan to maximize your interest. Later, when your child is older, perhaps you would like to take a more conservative approach. Whatever you decide to do, the friendly staff at NC 529 is here to present you with all your available choices.
Making Your Money Work for You & Your Child
By investing in an NC 529 Account, you're taking advantage of compound interest to ensure that you get the most out of your savings. As your investment keeps building and accrues more interest, you'll start to earn money on the money you're already making.
Over time, this compound interest can add up to a sizable amount that can set your child on the path to success. Even better, your NC 529 Account has some serious tax benefits. The earnings you make on your savings are free from state and federal taxes when they're withdrawn to pay for qualified education expenses. It's just another reason why an NC 529 Account is the smart choice to save for college.
You don't need to have the fastest baby in the state to start saving for college. You can open an NC 529 account for as little as $25. Don't wait to start saving for your child. Open your NC 529 Account today and you'll be off to the races!
Go Back to News