Congratulations to the Winner of the 'Spring Into Saving: NC 529 Day Giveaway!'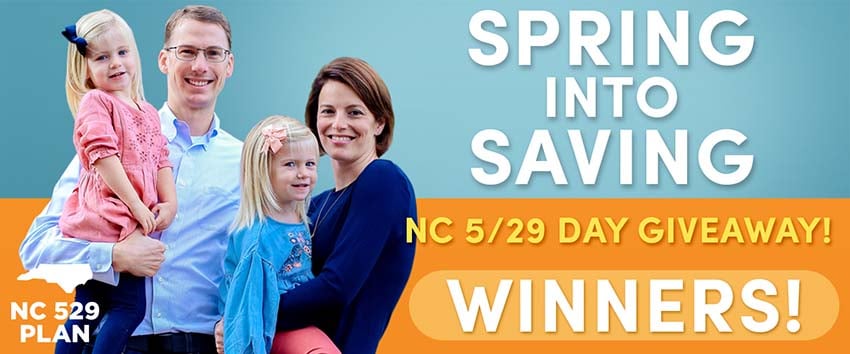 May 29 (5/29) marks National College Savings Plan Day, and the NC 529 Plan celebrated with a new giveaway to promote saving for education and planning for the future. The Spring Into Saving: NC 529 Day Giveaway! was open to all current and new account holders.
The winner of the Spring Into Saving: NC 529 Day Giveaway! was the Riegert family of Raleigh, North Carolina. They received a $1,529 contribution to their NC 529 Account!
Tom and Lacy Riegert opened NC 529 Accounts for their twin daughters when they were born. Aubree and Paige are now 4 years old, and their parents plan to split the prize equally between the girls' accounts.
"We set up NC 529 Accounts for the girls' Christening," said Lacy Riegert. "If people gave us money as a gift, it went directly into the accounts. Now, when the girls receive money for a birthday or holiday, we let them buy something small and put the rest into their NC 529 Accounts. We tell them that we're saving the money for college, so they know this is an important goal for our family."
The Riegerts are big believers in starting early to save for college. They encourage family and friends to open NC 529 Accounts for their children. Tom set up accounts for all of his nieces and nephews to help them plan for the future.
"One of the first questions I ask is, 'Can I contribute to their 529 account?'" says Lacy. "Saving for college is very important to me because I didn't finish paying off my college debt until I was 35. We always encourage family and friends to save, save, save!"
The event was sponsored by College Foundation, Inc. (CFI), a North Carolina non-profit.
NC 529 in the News
During the month of May, NC 529's amazing team of regional representatives shared the exciting news about the Spring Into Saving: NC 529 Day Giveaway! on social media and in the local news. Our experts made sure families knew how to enter for their chance to win the grand prize and discussed the benefits of planning for K–12 tuition and college expenses with the NC 529 Plan. They also encouraged parents to use NC 529's new College Savings Calculator to reach their children's educational goals.
NC 529 Representative Brittany Privott Appears on WBTV-Charlotte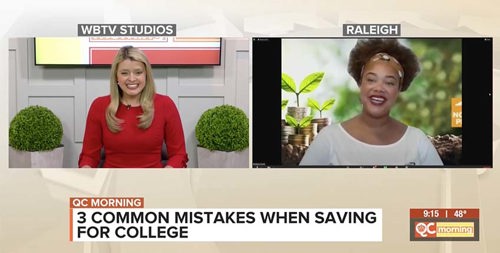 Regional Representative Brittany Privott discussed the rising cost of education and the three common mistakes parents don't want to make when saving for college in an interview with WBTV-Charlotte. Click here to watch the full interview.
Regional Representative Sarita Broadway Appears on WRAZ/WRAL-Raleigh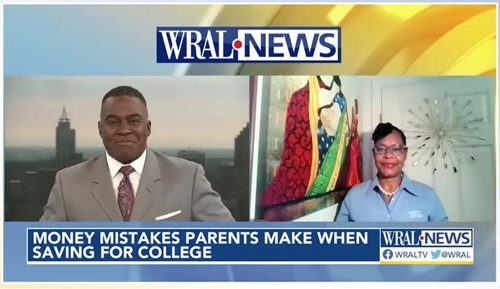 Regional Representative Sarita Broadway discussed education saving strategies with WRAZ/WRAL-Raleigh. She encouraged parents to remember that they don't need to save for the entire cost of college. Students can also apply for financial aid, including scholarships, grants, and student loans. Watch the full interview.
NC 529 Giveaway Highlighted by Smoky Mountain News

The Smoky Mountain News featured the "Spring Into Saving: NC 529 Day Giveaway!" in its online edition to celebrate National 529 College Savings Plan Day.
After registering their account and making a contribution, new and current NC 529 Account holders were able to earn additional entries by setting up a new automatic contribution through a bank or employer payroll deduction, increasing a current recurring contribution by at least $25 per account or making a one-time contribution to the account. Contributions from family and friends for birthday gifts or special holidays also counted as entries. Click here to read the article.
Invest in Your Child's Future With NC 529
NC 529 funds can be used to pay for college expenses, K–12 tuition, student loan payments, qualified apprenticeship programs, and more!
NC529.org has free online resources to help families understand tax benefits, contribution opportunities, investment options, and more so they can start saving for education today!
Go Back to News