CFNC Launches Updated Website with Exciting New Features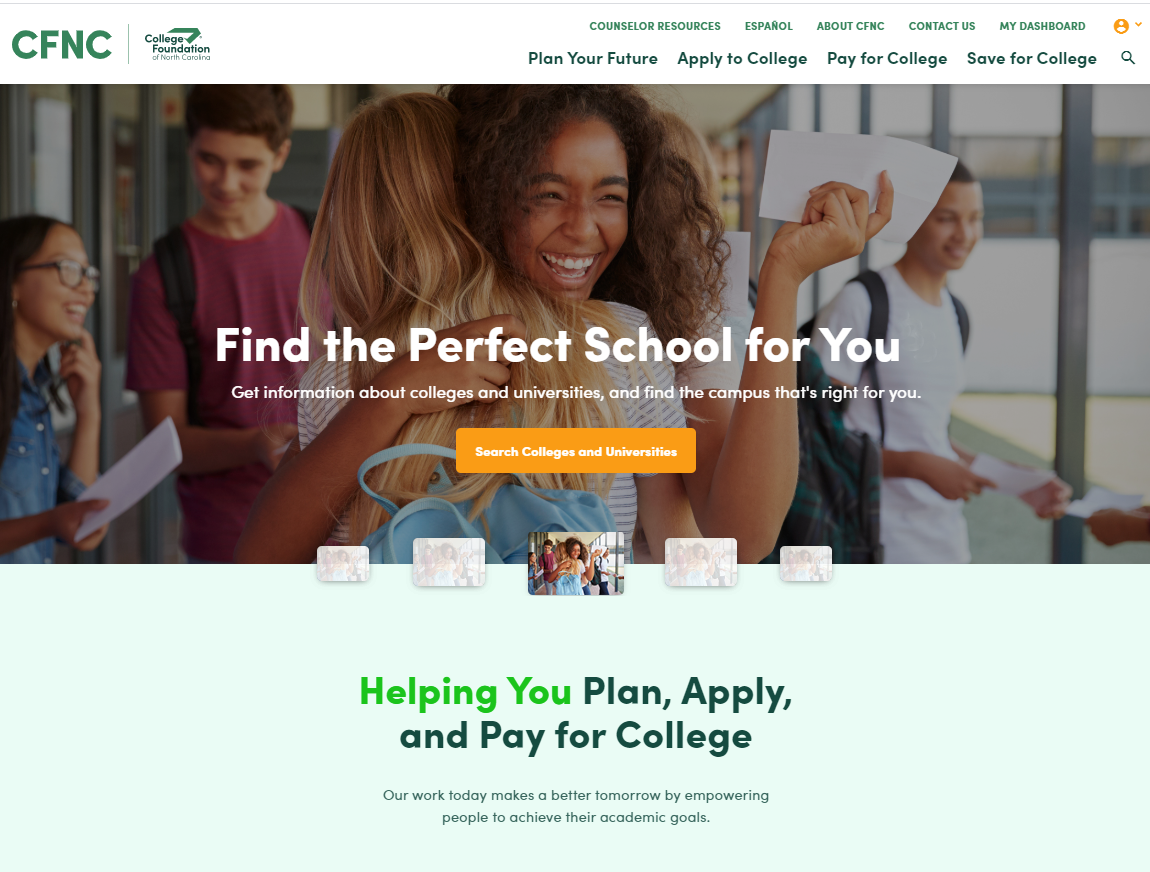 College Foundation of North Carolina (CFNC) is excited to announce the launch of its completely revamped website. In addition to a sleek new look and feel, the new website also features personalized dashboards for users, easier navigation, updated college search tools, a customizable scholarship search, and more to help local students as they plan, apply, and pay for college. It's the next generation of CFNC for the next generation of students!
CFNC's Free Tools to Plan, Apply, and Pay for College  
The new CFNC.org will serve as an invaluable tool for North Carolina students who are seeking online college planning resources now more than ever before. Click the following links to take a tour of the updated, mobile-friendly, features now available:
What If I Already Have a CFNC Account?
For students and other users who already have a CFNC account, no action is needed. Your existing accounts have been integrated within the new website, and you can start taking advantage of the exciting improvements right now. Additional website features include:
Personalized Dashboards– Users can create a personal profile where they can save detailed college and career searches, access their student loan information, and monitor their NC 529 Account.
College Search – Create and save college searches based on school size, cost, majors, sports, and more to find the perfect school.
Career Search – Take quizzes to determine which careers suit each student and research hundreds of careers to plan for that dream job.
Scholarship Search – Research hundreds of scholarship opportunities to help North Carolina students earn free money to pay for college.
CFNC in the News
The new website upholds CFNC's commitment to promote access to education and assist every North Carolina student on their journey to higher education, whether that involves a specialized credential, a two-year degree, a four-year degree, or a graduate program.
CFNC's statewide regional representatives have been busy sharing the exciting news about our updated website. In media appearances around the state, our education experts are showing students and parents how to take advantage of the new and updated tools CFNC.org offers, to make the college planning process easier than ever before.
Watch our reps in action!
Go Back to News