When Should I Start Saving for College? 4 Tips to Fund Your Child's Education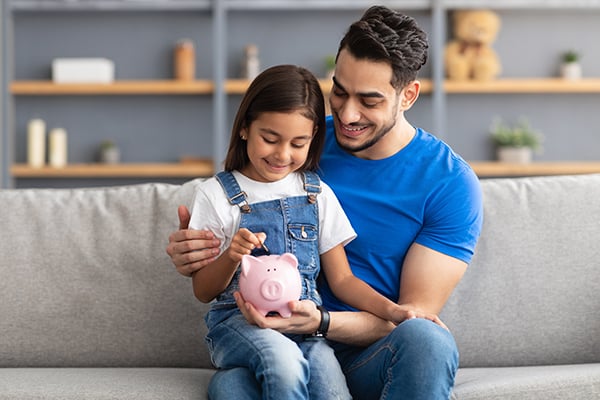 When you save for your child's college education, you make more than a financial investment — you invest in their future success and well-being. Recent studies show that college graduates earn an average of $1 million more than high school graduates over a lifetime and that higher income is a strong predictor for better health and overall life satisfaction.
Still, many parents worry about rising college costs, and recent economic hardships have made saving a challenge for many families. "When should I start saving for college?" can become a question laden with anxiety — but it doesn't have to be.
The good news is that it's never too early or too late to start saving for college, and there are multiple benefits to the NC 529 Plan that make it efficient and easy to save. Use our helpful tools to start budgeting for contributions to a college savings fund and be a role model for financial responsibility to your child. Here are four tips on starting a college fund for your child, whether they're about to walk the graduation stage or walk for the first time!
Start Saving Early
The best answer to "When should I start saving for college?" is as early as possible. First, you'll want to set a savings goal and understand how much you need to save and how often. Our interactive College Savings Calculator allows you to estimate monthly contributions based on your current savings, your child's age, what type of school they might attend, and other factors. Adjust each of the fields to find a plan that works for your budget!
If you're unsure you can consistently contribute to your education savings fund, keep in mind that you don't have to make monthly contributions to an NC 529 Account. Start with what you can afford and gradually build up the amount over time — remember, something is better than nothing! You can also ask family and friends to make gift contributions to the account as a baby shower, birthday, or holiday gift. In fact, starting in 2023, a rule change will allow grandparents to contribute to their grandchildren's 529 accounts without penalizing eligibility for federal financial aid.
You can even ask your employer to help you save for college. Ask them to provide a payroll deduction enrollment benefit, with the deducted funds from your paycheck going directly to your NC 529 Account!
Compare Your Options
While a 529 plan is one of the best and most common ways to start saving for college, it's not the only way. Do your research and learn about all your options to find one (or more!) that works best for you. Keep in mind that 529 plans are special for a few reasons:
Earnings grow tax-free when they are withdrawn and used for Qualified Education Expenses, which include K-12 tuition. That's right—you don't have to wait until college to enjoy the tax advantages!
Starting an NC 529 Account is possible with just $25, with no yearly maintenance fee.
Your savings can grow over time thanks to compound interest — aka, interest on your interest!
Use the funds at virtually any school in the country, not just in North Carolina.
You have plenty of investment options, with strategies ranging from conservative to aggressive. You can even change your investment mix up to twice per calendar year.
Other types of college savings funds to consider are:
Coverdell Accounts (ESAs): Like 529 plans, earnings grow tax-free when the withdrawals are used for qualified education expenses, but Coverdell accounts have a $2,000 annual contribution limit per child. Keep in mind that the NC 529 Plan calculates limits yearly, with the current lifetime limit set at $540,000 per beneficiary.
Custodial Accounts: Individuals can contribute up to $15,000 a year, but earnings are taxed. Fortunately, they are taxed at the child's rate, which is usually lower than the parents' rate. However, control of the account transfers to your child once they turn 18 or 21, and they can withdraw the funds for whatever they want—not just education. NC 529 funds stay in control of the participant (account owner), no matter the beneficiarie's age.
Encourage Financial Literacy
Financial literacy has become a buzzword in recent years, especially in the world of education. More and more people realize that financial education helps children thrive in the real world as they get older. The concepts of credit, loans, and budgeting should not be new to your child when they graduate from high school.
No matter how old your child is, talk to them as frequently as possible about responsibility with money. Explain how it's earned, spent, saved, and invested. Encourage them to contribute to their own savings accounts (piggy banks never go out of style!) and show them how their own NC 529 Account grows over time!
Kids need concrete examples of responsible money management in order to buy into the idea. If they are old enough to get a part-time job, encourage them to contribute part of their paycheck to their own NC 529 Account. Read more about how to encourage money management with teens and younger children.
Today's the Day to Start Saving for College with NC 529
Starting a college fund for your child is an investment with a high rate of return — and a priceless one at that. Your college-educated child will not only be set up for success in life, but by using tax-advantaged savings to pay for their education, they can escape the heavy burden of debt that holds many college graduates back from their goals. They deserve a bright future — make it happen by starting an education savings fund today!
Open an NC 529 Account in minutes with just $25.
Go Back to News