What Does Your Little One's Future Hold?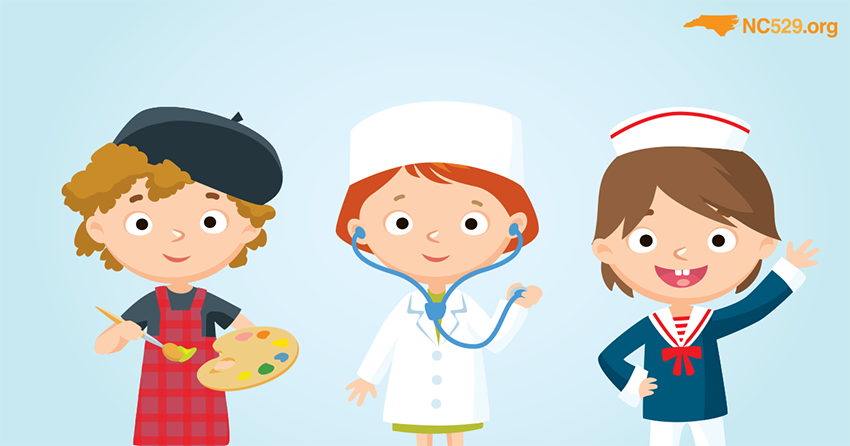 How do you picture your little one's future? Bustling around a hospital saving lives? Reporting on the nightly news? Being a professional athlete? Children up to age 10 can explore these careers and more at the Future Me Kids Career Fair at Marbles Kids Museum, 201 East Hargett St., Raleigh, from 1 – 4 PM on Saturday, February 24. Stop in to enjoy watching your little one explore the possibilities!
About the Future Me Kids Career Fair
The afternoon fair is designed to help children experience what it would be like to fill the shoes of their favorite professionals. Whether your child wants to be a chemist or a contractor, representatives from over 40 companies will be available to introduce him or her to potential career options.  What a wonderful way to watch and help your child, grandchild, or other special little one learn by playing.
Add the event to your calendar and spread the word to your friends!
NC 529 and Marbles Kids Museum
The NC 529 Plan is proud to be a sponsor of this event, and we hope to see you there. We'll be getting into the spirit at our photo booth where children can dress up to represent their dream profession and you can snap away.  Those photos will be a keepsake for sure! You'll get a chuckle looking back at them when it is time for your loved one to go off to college.
Post-Fair Career Excitement
Your child's interests will certainly change through the years.  To continue fostering excitement for the future, here are some books that promote career exploration and build confidence. You may enjoy reading these with your child:
• Oh, The Places You'll Go! by Dr. Seuss. Reinforces the idea that the sky is the limit.
• Career Day by Anne Rockwell. Introduces a variety of professions to young children.
• When I Grow Up by Al Yankovic. Encourages children to keep dreaming because anything is possible.
• The Little Engine That Could by Watty Piper. A classic story of persevering and building confidence.
As they grow and continue exploring different careers through the years, you and your child will probably find that education beyond high school is an important part of being prepared for that future dream job.  To help cover the cost of the specialized training or college degree needed to attain that dream, start saving today.  Opening an NC 529 Account in North Carolina's college savings program (the NC 529® Plan) is easy and you decide how much and how often to contribute.  The contribution minimum is only $25. You can select from age-based or individual investment options and earnings on your account are free from NC and federal taxes.
Learn more about the NC 529 Plan and how it can help you be ready to make that career dream come true.
Go Back to News