WECT News and NC 529 Give Tips on Teaching Children to Save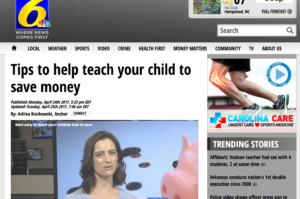 Friday, April 28, is Teach Your Child to Save Day, and WECT News elected to share tips on kids saving from the NC 529 National College Savings Program.
It is key to save money for the future, even though it may seem far off. Kids begin learning their financial habits early, so it is important to ensure they learn the right lessons.
There are several ways to teach your child how important it is to save money for big financial goals, like a home or a college education. The best way to show that saving is a priority is to lead by example. For more tips, read the story here.
Courtesy of WECT News.
Go Back to News