Getting the Most Out of Virtual College Tours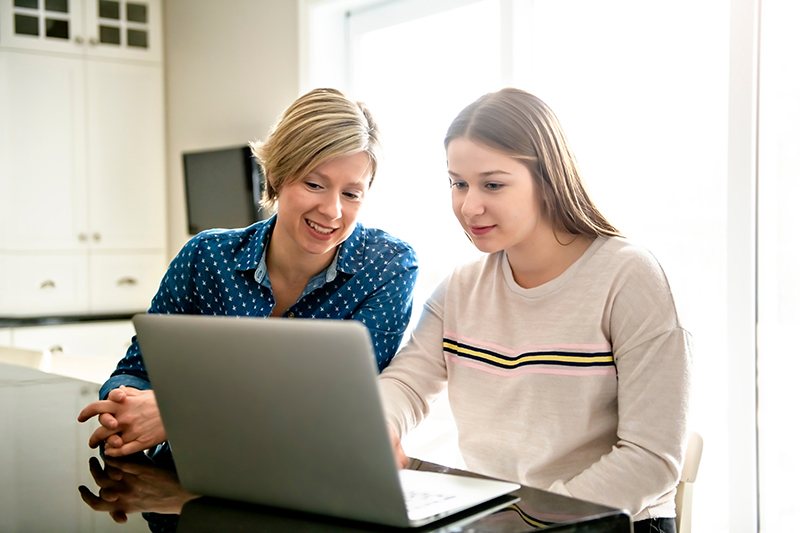 While some colleges had virtual experiences on their website before the pandemic, nearly all of them do today! Start by using the CFNC College Search Tool to create a list of schools you're interested in attending. Then, determine which schools offer virtual tours and start planning your college visits! While the opportunity for in-person visits remains, there are some benefits that virtual tours can offer someone who wants to explore the campus without leaving home.
Benefits of a virtual tour
Cost and Convenience: There are two big benefits of virtual tours — cost and convenience. Touring a college in person usually involves family members as well as the prospective student, and there are some costs that go along with traveling to campuses for the day. With virtual college tours, everyone can watch the tour on their own time without having to reschedule a work shift or incur any travel expenses. This makes virtual tours more convenient for everyone involved in the college decision and will even let you tour several campuses in a single day.
See more of campus: The virtual college tour can also provide you with the ability to explore college in greater detail than you might be able to do in person. A campus encompasses many acres of property that often can't be traveled easily in a day's visit. The virtual tour will show you the whole place and can help provide a better overall picture of what the college has to offer on the grounds. You may not initially be interested in where the football field is, but it might be neat to know that it's only a short walking distance from your dorm.
Your own pace: Watching a virtual college tour can also make it easier to tour at your own pace, as opposed to the pace of a group. There might be areas that you want to explore a little more, and not everyone in the group (or even in your family) may want to do that. In addition to a general virtual tour, most colleges offer additional mini-tours or links to more information on certain areas. NC State's virtual tour of their main campus includes extra highlights of other areas that might not be on your radar. Plus, if you missed something that the virtual guide said in the tour, you can just scroll back and hear it again!
Accessibility: If you are a student with a disability that makes navigating a standard tour more difficult, a virtual college tour will be helpful. You can adjust the volume if you are hearing impaired or re-run videos if you need information to be repeated. You can also get an idea of how accessible the entire campus is with a virtual tour.
You can always plan an in-person visit to campus when you have narrowed down your choices or once you have been accepted.
Virtual tours help students take the next step in college planning
Of course, there is nothing like the real, in-person campus experience. But, a virtual college tour is not a replacement for that experience; it's more of an extra experience.
In addition to the benefits above, a virtual college tour can prompt some questions you can ask during an in-person visit or highlight some areas of the campus you specifically want to see in person. It allows you to maximize your time, which is important if you are going to visit a few campuses. Maybe the virtual tour of the dining hall was enough for you, but you would rather see the dorms in person.
There might also be some questions that the virtual option doesn't answer so make a note of those. If you take more than one virtual college tour, you could learn information that prompts more questions. Use the virtual tour experience to your benefit and help you narrow down the schools you want to visit in person.
Some final tips to find the right school for you
In addition to seeing the campus and the surrounding areas, there are some extras you might be able to access either virtually or in-person:
Talking to a professor: Ask about the opportunity to reach out to a professor in your chosen field of study if you have some major-specific questions. Meredith College has some suggestions with five questions to ask each professor you meet.
Alumni or student interview: Speaking to a student or alumni can bring a new perspective on what campus life is like.
Virtual counselors: Schedule a virtual appointment with an admissions or financial aid counselor or see a video on financial aid questions. Appalachian State University offers videos, virtual appointments, and virtual walk-in hours to help students and parents.
According to a State of College Admission Report by the National Association for College Admission Counseling (NACAC), 36% of first-time freshmen are applying to seven or more colleges, and more than 80% have applied to at least three colleges each year. Making in-person visits to seven colleges might be challenging for students and parents, so a virtual college tour provides a helpful sneak peek at the campus.
Not sure where to start? Virtual tours of many four-year and two-year North Carolina colleges and universities are available through the GEAR UP NC app. And don't forget about the free college planning resources available on the CFNC website. Create your free CFNC Account today to stay connected to financial aid, important deadlines, and more helpful college information.
Go Back to News