Types of Colleges & The Benefits of Each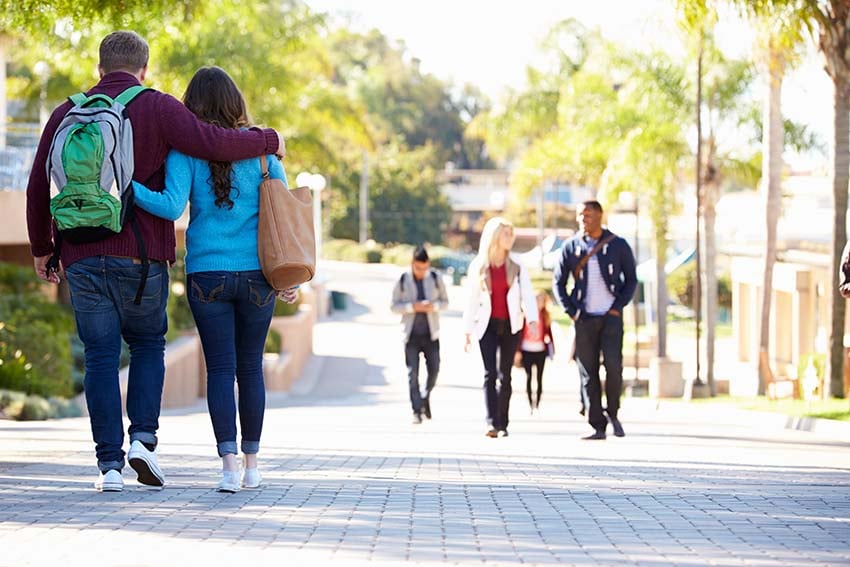 Making the decision to go (or go back) to college is a big deal. You have so many choices about what you want to study, how long you want to commit to higher education, and what type of college you'd like to attend.
There are many reasons why you should go to college, including learning new skills to qualify for higher-paying jobs with room for growth and advancement. Depending on what kind of career you want to pursue, you may need an associate degree, a bachelor's degree, or a professional certificate to meet the job requirements.
If you're just getting started on your college search, you may have some questions about which college type is right for you. Let's take a closer look at the main types of colleges and which may be right for you.
Colleges vs. Universities
The words 'colleges' and 'universities' are often used interchangeably, but they do have some key differences. First, universities are generally larger than colleges and offer undergraduate and graduate degree programs. Not all colleges will offer grad school programs.
Universities are larger and may offer more resources and opportunities for students. A larger student body can also mean a diverse campus where students can meet and work with classmates and educators from different backgrounds. Classes at universities also tend to be larger, so if you don't think a large, bustling campus will suit your learning style, you may want to consider the more close-knit setting of a college.
The most common type of college is a liberal arts college. Students will receive a diverse education in humanities, mathematics, and creative arts. A degree from a liberal arts college will provide students with the knowledge and flexibility to pursue careers in a wide range of industries.
Something that colleges and universities have in common is that education programs generally take four years to complete. And when they do graduate, students will receive a bachelor's degree.
Public vs. Private
The biggest difference between public and private schools is how they receive their funding. Public colleges and universities receive most of their funding from the state. Private colleges and universities get most of their money from student tuition, endowments, and alumni support.
When you look at the cost of attendance between public and private schools, private schools generally charge more for tuition. However, private schools are also more likely to offer more merit scholarships and other financial incentives, which can greatly reduce costs. So, if you're really interested in a specific private school, do your homework before you let the price scare you away.
Public colleges and universities generally charge lower tuition rates to in-state students, so choosing a school in your state can make earning your degree more affordable. Students considering these types of colleges in North Carolina need to complete the Residency Determination Service to apply for in-state tuition. This is a simple process that uses the login information from your CFNC account. Don't have one? Create one today at CFNC.org!
Community Colleges
There are 58 community colleges in North Carolina, so chances are there's one close to your home. Community colleges are also known as two-year colleges because most programs take two years to complete. Students who graduate from a community college will receive an associate degree or certificate. Students may also begin at a community college and transfer to a four-year institution.
Many local community colleges also have apprenticeship programs. Apprenticeship opportunities are available in industries such as manufacturing, information technology, healthcare, and more. In North Carolina, the NC Community College system has many types of apprenticeship programs through ApprenticeshipNC. Apprentices take part in classroom and on-the-job learning to receive their degree or certificate, depending on the specific program. Did you also know that NC529 money can be used for qualified apprenticeship programs now? Be sure to take a look!
Historically Black Colleges and Universities (HBCUs)
Historically Black Colleges and Universities (HBCUs) were established at a time when African American students in our country were denied admission to many colleges and universities. Today, HBCU campuses give Black students a chance to be part of an educational environment where they're in the majority.
Students of all races can apply to an HBCU. A survey in 2018 found that non-black students made up 24 percent of HBCU campuses. North Carolina has 10 HBCUs, including the country's largest by enrollment, North Carolina A&T University in Greensboro. North Carolina has more HBCUs than any other state, with a rich history and a bright future. Interested in attending one? Attend a CFNC-hosted webinar coming up in February.
Trade Schools
Trade schools or vocational schools are other types of post-secondary education. Students will often enroll in a trade school to focus on a specific industry, such as becoming an electrician, welder, paralegal, cosmetologist, or other specific fields.
Trade school programs can take from less than a year to two years to complete. Students who graduate from a trade school will receive a certificate or diploma, depending on the program.
Women's Colleges
In the 1960s, there were more than 200 all-female colleges across the United States. Today, there are fewer than 40 women's colleges, including four in North Carolina.
Like HBCUs, women's colleges were founded at a time when women did not have the same access to higher education as men. Despite the dwindling number of campuses, all-women colleges have seen an increase in applications over the past few years.  
CFNC College Search is Your Ticket to Higher Education
Use the CFNC College Search to find which college type fits your needs. You can refine your search by selecting different college filters, including college type, public or private, single-sex or coed, and more!
Research and save your favorite schools to your CFNC dashboard. And when you're ready to apply to colleges, use the CFNC Application Hub to submit your applications and keep track of the application process in one convenient location.
Go Back to News