September is College Savings Month!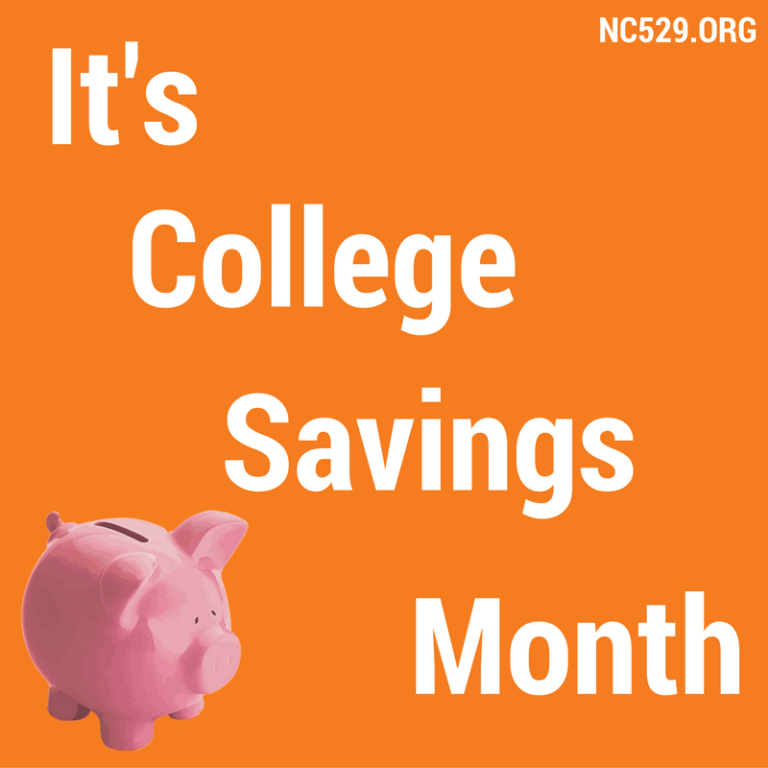 Saving for college is an important aspect of planning for your family's future. College Savings Month is a great time to inspire more parents to open college savings accounts or to commit to increasing their college savings goals in their existing accounts.
Sometimes families are daunted by the cost of college; however, few families end up footing the entire bill. Most end up paying for college using a combination of resources—savings, scholarships, grants, loans, work-study, part-time work and current income. Few pay the entire cost out of pocket, but most will be expected to pay their share of college expenses. Saving in the years before college is a big help instead of having to pay out of only current income during those college years. Plus, the more you have saved, the less you or your future student will have to borrow.
NC 529 is dedicated to helping parents save for college in a smart, easy-to-open NC 529 account. There are multiple investment options, low fees, low minimum contributions, earnings that grow tax-free if used for qualified college expenses, a variety of ways to contribute and easy, secure access to your account information.
That's why it's so important to start saving for college NOW — and what better time to start than during College Savings Month? The sooner you start, the better prepared your family will be when the college expenses begin.
In celebration of College Savings Month, NC 529 invites you to participate in several exciting activities and giveaways. We hope you'll be inspired to start saving for college this month, and be better prepared for the future.
**Edit: This contest has ended. To stay up-to-date for future contests and drawings, please follow our newsletter! 
Take the #ImSavingforCollege Pledge
NC 529 encourages you to take the #ImSavingForCollege College Savings Pledge. Print out this certificate and solidify your commitment to saving for college. You can frame it, put it up on the refrigerator or keep it with your financial records! Whenever you see it, you'll be reminded of your commitment to saving for college and how proud you are to be taking steps towards reaching your goal.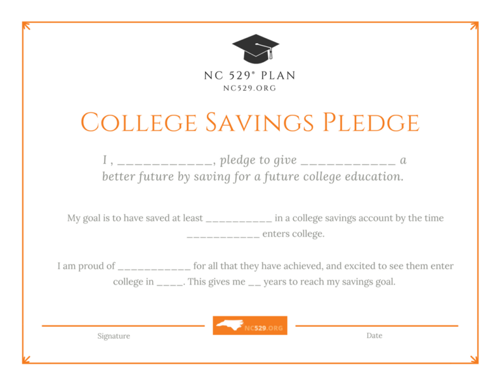 #ImSavingForCollege Giveaways
NC 529 is holding giveaways on Facebook throughout the month of September to help spread awareness about the importance of saving for college! Between September 1 and September 30, 2016, look for Facebook posts containing the hashtag #ImSavingforCollege. Simply comment on these posts to receive admission tickets to Marbles Kids Museum in Raleigh. You could even win Marbles IMAX tickets if you win the caption contest! From quirky questions to caption contests, there will be lots of chances for fun, so tune in on Facebook.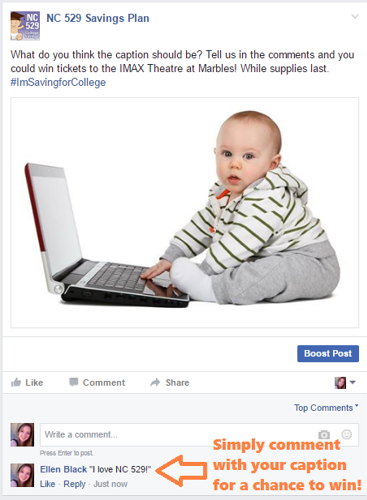 As you learn more about college savings this month, we hope you have some fun, take a few moments to think about your family's savings goals and investigate the NC 529 Plan. 
Go Back to News