Questions About College? Ask Your Rep: Takeila Hall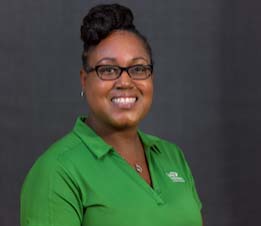 Takeila Hall knows about money for college – how to save it, how to budget it, how to get it, and how to pay it back. That's because Takeila is the 336-area code Regional Representative for the College Foundation of North Carolina (CFNC), and part of her role is to help North Carolina families understand the options that they have in terms of paying for college. She spends her days talking to students and families at schools, community groups, and businesses in the Winston-Salem region of the state about all things college. 
Of course, her talks to families and students aren't just about how to pay for college. She offers advice on career planning, choosing a school, and applying for college as well. Hall loves her role as a regional representative, and believes that "If I can help someone figure out how to go to college or get into their dream job, I have made a difference in the world." 
Takeila is North Carolina raised, graduating from the University of North Carolina at Wilmington in the 90s. "College was so much different from high school. I was a pretty good student in high school and was in the top 10 percent of my graduating class," she says. "I quickly learned that you had to work harder to be competitive in college, but it was manageable." 
For that, Takeila credits her course selection in high school. "I was so thankful in high school that I learned to type and speed write. I had good study habits and learned to use my resources." 
And that's what Hall wants to get across to families; CFNC is a resource that's there for them to use…and it is absolutely free. Even if you can't make one of her group talks, Hall says CFNC has much to offer. "We have a dedicated call center to provide information — and on the website, people can learn about scholarships, grants, loans, and work-study. Students and families don't have to be rich to go to college." 
As she travels from school to school and event to event, Takeila never tires of talking to students about how they can reach their future goals. "I love my job because I feel like I am helping people increase the quality of their lives," she enthuses. 
In fact, not all of her work is done on the road. Takeila extends her efforts online and is frequently active on Facebook via Takeila at CFNC too.  Of course, if you need quick answers to your college preparation questions, we encourage you to visit CFNC.org or give us a call at 866-866-CFNC. 
Go Back to News