Pathways to College: 5 College Paths Besides a 4-Year Degree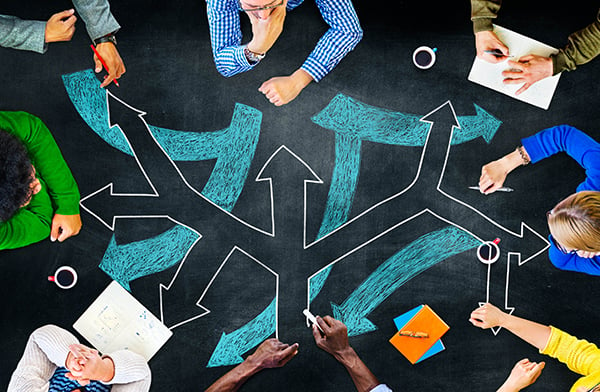 "Where are you going to college?" It's a common question that teens ask each other as college application or high school graduation seasons roll around. While many high school students are thinking about going away to four-year schools, there's no one path to pursuing higher education and a career you'll enjoy.
Just look at the successful adults around you. For example, is your mom a computer security analyst who earned an associate degree at a two-year community college? Does your dad run his own plumbing business after completing an apprenticeship program when he graduated from high school?
Going to college doesn't have to mean pursuing a traditional four-year degree. Here are five other pathways to college that could lead you to your perfect career.
Community College
Your local community college is a great pathway to college for anyone who doesn't want to commit to a four-year college or university. In fact, while many occupations require some post-secondary education, many don't require a bachelor's degree from a four-year university. Community colleges have many two-year programs to help you launch your career.
Here are just a few high-paying careers you can begin with by earning an associate degree from a two-year community college:
Paralegal – Are you interested in the law but don't have the money or the time to complete four years of college and then another three years of law school? What about a career as a paralegal? A two-year program at your local community college could get you started in an interesting career with lots of growth potential.
Medical Equipment Repair Technician – Do you like to work with your hands and are interested in health care? Hospitals and doctors' offices need help maintaining and fixing equipment such as MRI and CAT scan machines, so an associate degree in biomedical technology or engineering may be right for you.
Computer Support Specialists – The job market is growing for information technology experts who can provide help and advice to computer users and organizations. An associate degree will provide training and knowledge in computer architecture, operating systems, hardware, network administration, and support.
Did you know that North Carolina has 58 community colleges? There's likely one very close to your home. Use the CFNC College Search to find a community college campus that's convenient for you and see what kinds of programs they offer that might interest you.
Apprenticeship Programs — Earn While You Learn
Do you learn better with your hands instead of sitting in a classroom? How about getting paid while learning a new career? Apprenticeship programs are paid, job-based learning opportunities where most of your instruction will come from working under the supervision of an experienced worker or journey-level tradesman.
Examples of apprenticeship training include chefs, plumbers, electricians, carpenters, and ironworkers. To find an apprenticeship program, you can use the Apprenticeship Job Finder from the U.S. Department of Labor.
Apprentices are also required to take some traditional classroom instruction to complete most programs. Once you successfully complete your apprenticeship, you'll receive industry-recognized certification and the opportunity to complete additional training for higher-level positions.
Trade School Programs
Many careers that you can learn through an apprenticeship can also be attained through a trade school program. While apprenticeships are paid on-the-job training, trade schools often give students more specialized skills than they might learn in a work environment. Trade school students also have access to industry-leading techniques and tools.
Trade schools can either be public or private. As you're researching the best school for you, make sure the school has been accredited before applying. Trade school graduates will receive a certificate, diploma, or associate degree, depending on the program.
Join a Branch of the Armed Forces
Joining a branch of the U.S. Armed Forces is a great way to see the world and gain valuable skills and education. This can help you pursue a career while you're serving and help you find a job when you re-enter civilian life. In addition to leadership and work ethic, career skills available in the military range from communications and medical training to auto maintenance and construction.
Note that joining the armed forces can be a significant time commitment. Most enlistment agreements include four years of active duty and an additional four years of inactive duty.
Study Online
Do you need a flexible school schedule? Studying online is another pathway to college that doesn't mean pursuing a traditional four-year degree. Online classes give you the ability to create a school, work, and family schedule to help you achieve your goals.
Many online programs give students the opportunity to earn an associate degree, bachelor degree, or other certification for the career they want. Recent trends in online learning show that many traditional schools have created or expanded their online degree programs thanks to lessons learned about the logistics and benefits of online learning during the pandemic. You may find that many of the community colleges and four-year schools near you have online offerings.
Resources to Get You Started
Not sure where to start your career search? Use your free CFNC Account to take career assessments on NCcareers.org. You'll be able to find your interests, explore occupations, and plan your career.
Once you have an idea of some careers you want to pursue, browse through programs and majors on CFNC.org. No matter which education path you decide to take, CFNC is here to help you find the right program for you.
Go Back to News