North Carolina College Costs: How to Estimate Expenses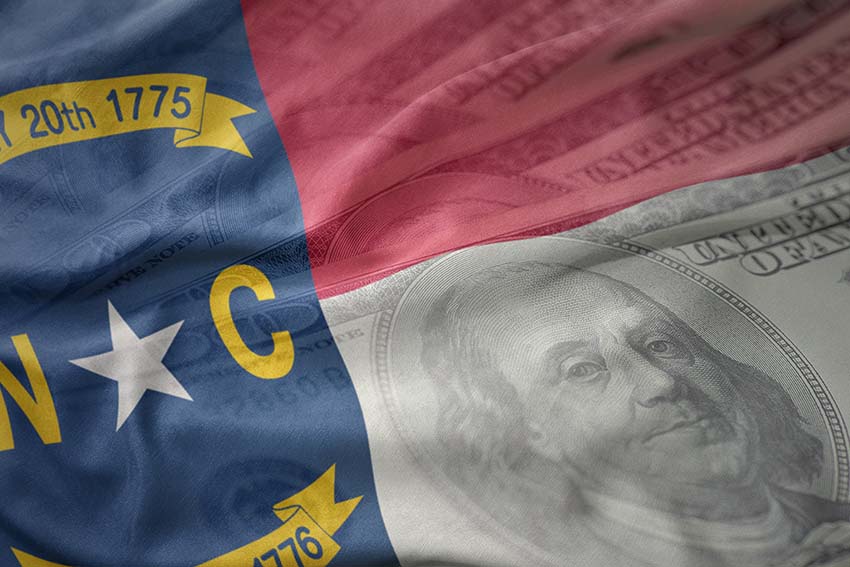 Wondering what it costs to attend college in North Carolina? Here's how to calculate estimated expenses for both in-state and out-of-state tuition.
American teenagers face a tough decision when choosing the right college. Students and their families must consider several factors before nailing down the right choice.
Chief among those factors is the rising cost of a college education over the past few decades, which climbed higher even during the COVID-19 crisis. With more than 26 million students now attending college in the United States, the past decade has seen a record number of families grapple with the pressure of planning to pay for college. Included in those millions of students are more than 700,000 attending college in North Carolina.
Students in the Tar Heel State are not exempt from those stressors, so let's break down what to keep in mind when estimating North Carolina college costs.
Where Does Your Family Live?
The biggest factor in determining college expenses is likely going to be location.
Costs for colleges in North Carolina, like most states, vary depending on where you live. While an in-state residency may not reduce tuition at private schools, public universities often offer a much cheaper tuition bill to in-state students.
The average cost of in-state tuition in North Carolina is just over $11,000 per year, which makes North Carolina the 18th most affordable state for public education. Of course, that figure relies on the assumption that you have residency in the state.
Room and board costs could also be affected by the location of a student's family. For those attending in-state, is family close enough for you to live at home?
Some families actually consider changing their residency to receive the advantages of in-state designations, though there are particular residential requirements to consider in North Carolina. When completing the residency determination, students will receive a Residency Certification Number ("RCN") they can use when applying to any N.C. college to confirm their residency status.
Private vs. Public
North Carolina college students have a wealth of educational options at their disposal. Based on what they see as the right fit, students can choose between various community colleges, small and large public universities, and private universities.
The NC Community College System is one of the largest in the nation and offers some of the lowest costs. For some, the cost is understandably one of the more prominent factors in choosing a college, and North Carolina certainly has many excellent and affordable community colleges to choose from.
Many prospective students assume pursuing a private education is untenable because the decision would make college more expensive. While that is often the case, many private universities offer programs or need-based aid that could offset the higher costs. It happens more frequently than you think.
Determine Financial Aid Opportunities
No matter the educational environment a student selects, the process of estimating North Carolina college costs should always include the consideration of financial aid.
Just because your school of choice is accompanied by a larger price tag doesn't necessarily mean it's out of your reach. From federal and state aid to school-specific awards to private scholarships and grants, there is always a chance to narrow the gap of affordability.
Be sure to monitor any relevant scholarship or financial aid deadlines, including the opening date to fill out the FAFSA on October 1st of each year, which determines how much federal and state aid students may be eligible for.
Consider the Unexpected
When calculating the costs of college education, families often focus solely on the fundamentals.
Though tuition, room and board, and textbooks are certainly some of the largest expenses, there are several other factors that could affect a student's ability to afford everything a college selection would bring.
For instance, does the school you select require you to commute? Will you have to pay for public transit or drive to classes daily? If you are an out-of-state student, do you have to fly home for the holidays? If you are not in university housing, what will housing entail? How much would you need for food if meal plans aren't part of the equation?
While these expenses may not apply to every student, they are useful questions to start thinking about when choosing a college.  
Start Planning Early
The college preparation process benefits from early planning on various levels.
Thinking about a college education motivates a student to raise their performance in the classroom and sets a tone for financial planning as well.
It will be much easier to create a college savings strategy if a family has taken the time to calculate the costs of a college education as early as possible. Use the NC 529 College Savings Calculator to estimate how much money you may need when your child goes to college. The clearer the financial picture, the more likely it is that families will successfully prepare to send students to college.
If that happens, students can focus on preparing themselves to succeed in higher education.
Go Back to News