NC 529 Holiday Drawing Boosts Education Savings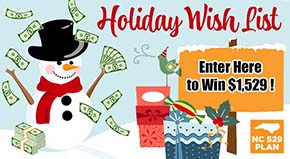 The 2020 holiday season will shine a little brighter this year with the "Holiday Wish List: Enter to Win $1,529." The holiday drawing is sponsored by College Foundation, Inc. (CFI), a North Carolina nonprofit, and the NC 529 Plan, North Carolina's education savings plan.
How to Enter for Your Chance to Win
To qualify for the drawing, participants must register their account on the drawing website. The drawing is open to all current and new NC 529 Account holders during the entire month of December. Participants can earn multiple chances to win the $1,529 grand prize, simply by making contributions to save for college expenses and K–12 tuition:
2 entries – Set up a new recurring contribution by automatic draft or payroll deduction.
2 entries – Increase a current contribution by at least $25.00 per account.
2 entries – Make a first contribution to a new account.
1 entry – Make an additional contribution to an account, including gifts from family and friends! Contributions start at just $25.
The "Holiday Wish List: enter to Win $1,529" ends on December 31, 2020. The winner will be chosen by random drawing and will be notified of the $1,529 contribution to their NC 529 Account. The funds can be used for college expenses, K–12 tuition, textbooks, room and board, apprenticeships, certain student loan payments, and more!
Turn AWKWARD into AWWWW With This Adorable Letter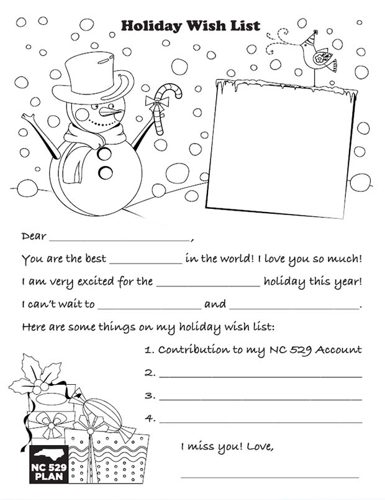 We all know that asking family members to give your kids money for the holidays can feel impolite and AWKWARD! However, 2020 has been hard on a lot of North Carolina families, and they're struggling to save for their children's future college needs.
So, we've created the Holiday Wish List letter for kids of all ages, to make the college money request less awkward for everyone. Remember, every contribution could help your child take home the grand prize!
Download and print the free fill-in letter from our website.
Kids can decorate and personalize as many letters as they want and send to family members or close family friends.
The letter has a special spot to add the child's picture. (Older kids can use a baby photo that will melt Grandma's heart!)
Wish list already includes a contribution to their NC 529 Account.
To make a gift contribution, make check payable to NC 529 Plan and include the child's name and account number in the memo. You can mail the check to NC 529 Plan, P.O. Box 40877, Raleigh, NC 27629-8077. We also have downloadable gift certificates for birthdays and other special holidays.
Learn More About NC 529
Saving for K–12 tuition and college expenses can seem overwhelming but saving a little at a time can add up. The NC 529 Plan offers age-based investment options for students of all ages, from young children to adults planning to go back to school.
NC 529 funds also grow free from federal and North Carolina taxes when used for qualified education expenses. Learn more about the NC 529 Plan on our website.
Go Back to News