MBA Student Loans: How to Fund Your Master's Degree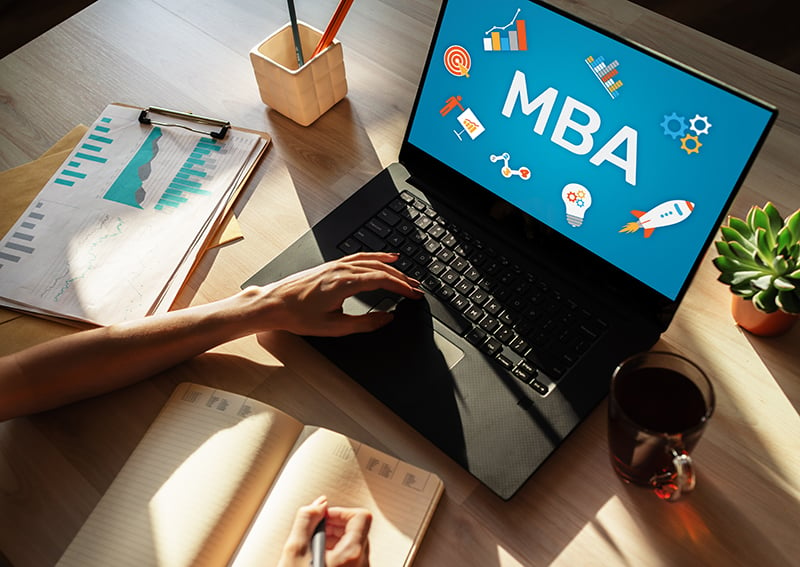 The process of securing loans to pay for and earn a Masters of Business Administration, or MBA student loans, is much like the process of securing undergraduate student loans. The good news is MBA students often have more funding options available to them. They simply need to know where to look for those options.
Like any school loan, students shopping for a business school loan should do their research to find the best program for their circumstances.
Continue reading for answers to common questions and information about MBA student loans and funding a master's degree.
Step 1: Complete the FAFSA and Residency Determination
Just like you did when funding your undergraduate education, master's students should complete the Free Application for Federal Student Aid (FAFSA) to qualify for financial aid. You should also complete the NC Residency Determination Service (RDS) to qualify for in-state tuition at North Carolina schools, which is less per semester than the out-of-state alternative.
After completing the FAFSA and RDS, you will receive a letter from schools you applied to, detailing the cost of attendance and the student aid available to you.
As a graduate student, once you understand the cost of attendance and find out how much student aid you'll receive in grants, scholarships, and work-study, you can determine how much money you may need in student loans to bridge the gap between savings, income, and financial aid and the overall cost of completing your master's degree.
Step 2: Look for Funding that Doesn't Have to be Repaid
Free money — money you don't have to repay — is, of course, your best option to fund a master's degree. Certain types of student aid, including grants and scholarships, are just the beginning of the potential funding sources for MBA students. Use the CFNC Scholarship Search to find scholarships and grants for grad school students. Employer assistance programs and fellowships are also common funding solutions.
Employers May Help
Most business school students are men and women who have full-time jobs, and they may work for companies that offer tuition assistance. Professionals who are planning to continue their education should check with their employer to find out if their company may help pay for their master's degree.
Fellowship Opportunities Also Cut Costs
Fellowships are another funding source to research. Unlike federal student aid, which is granted based on a student's financial ability to pay for school, MBA fellowships are typically merit-based, meaning students earn the fellowship with professional and educational achievements detailed on their resume.
Fellowship qualifications and application processes are unique to each business school. Prospective MBA students should check with their school to find out what fellowship programs are available and apply for them.
Step 3: Shop for the Best Business School Loan
Sometimes student aid, grants, scholarships, fellowships, employer assistance, savings, and income don't cover the total cost to complete a master's degree. In that case, students can consider MBA student loans to bridge the gap.
MBA student loans, like any other student loan, must be repaid over time with interest. Upon completing the FAFSA, business school students will receive a letter detailing federal loan options available to them. It's important to understand that private or "alternative" loans often beat federal Grad PLUS loans for MBA students. Shopping around and comparing interest rates and loan options can save students money.
Why Private Loans Often Beat Federal Loans for MBA Students
Most MBA students are business professionals who may have financed cars, purchased homes with mortgages, and used credit cards for purchases. If those individuals paid their monthly bills on time and didn't take on more debt than they could afford, their positive credit history and high credit score will qualify them for competitive interest rates and loan terms that often beat Federal Direct Loans, which are the same for everyone regardless of credit history.
This comes as a surprise to some MBA students who may have previously found Federal Direct Loans to be their best option to fund their undergraduate degree. A few key differences between the Federal Direct Loans for undergraduates and graduate students help explain this:
Federal Direct Loan interest rates are higher for graduate students than for undergraduate students. The interest rate for a graduate student's Federal Direct Loan disbursed from July 2022 to July 2023 is 6.54 percent (Direct unsubsidized) and 7.54 percent (Direct Grad PLUS) compared to 4.99 percent for undergraduates.
Federal Direct Loans are always unsubsidized for graduate students. Undergraduate students with financial need sometimes qualify for subsidized loans, meaning the government pays the interest on the loan while the student is enrolled in school or for an established period. This benefit is not available for graduate students.
All Federal Direct Loans include fees (on top of charging interest). Many private lenders, including NC Assist, do not charge borrowers fees to secure loans.
Consider NC Assist Student Loans
The NC Assist Loan program is provided by the North Carolina state-based nonprofit lender, College Foundation, Inc. Because the loan is serviced by a trusted nonprofit, students often receive more competitive interest rates than those with other private, for-profit lenders.
If you or someone you know wants to research student loans in North Carolina for business school or grad school students, consider whether an NC Assist Loan can help you achieve your goals.
Go Back to News