In the News: NC Assist Loan Rates Remain Competitive as Federal Student Loan Rates Rise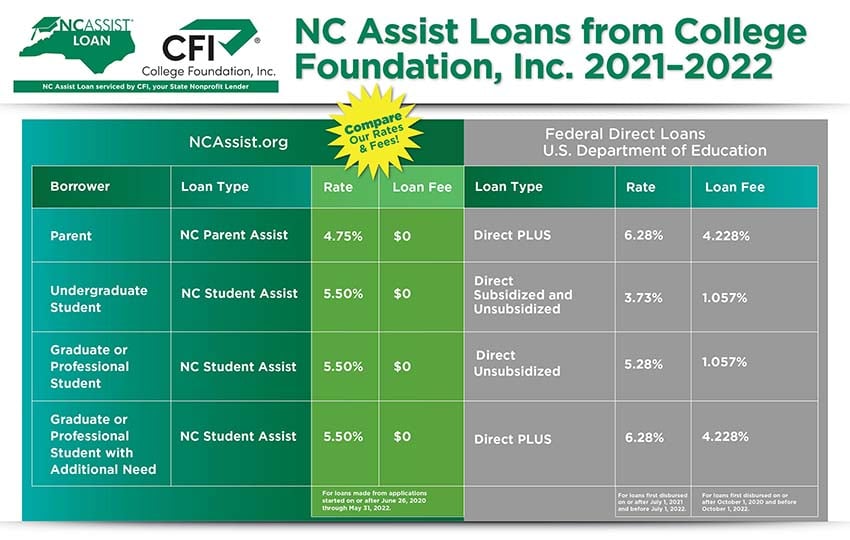 The interest rates on federal student loans went up nearly a point as of July 1, 2021. The increase comes as a difficult job market is pushing recent college graduates and unemployed North Carolinians to enroll in graduate school to earn advanced degrees and improve their ability to secure future jobs.
Grad School Enrollment on the Rise
Graduate school enrollment increased 4.4 percent in the spring of 2021, according to the National Student Clearinghouse Research Center. Applications to business schools, law schools, and medical schools are also on the rise. As federal loans become more expensive, students are looking for alternative student loan options to bridge the gap when financial aid and savings are not enough to meet grad school expenses.
NC Assist Shares '6 Steps to Funding Grad School'
To support graduate school students, NC Assist Loan, an alternative education loan administered by College Foundation Inc. (CFI), is encouraging potential borrowers to follow the 6 Steps to Funding Grad School:
File the FAFSA – Completing the Free Application for Federal Student Aid (FAFSA) to qualify for federal, state, and institution grants, scholarships, student loans, and work-study. Most grad school students do not qualify for Pell Grants, which are largely reserved for undergraduate students.
Talk to Your School – Graduate programs may provide merit- or research-based scholarships and other financial assistance.
Apply for Lifetime Learning Credit – Grad students may be eligible to claim up to $2,000 annually on their tax return.
Search for Scholarships – The CFNC Scholarship Search tool gives North Carolina students access to hundreds of scholarships to find free money for grad school.
Get a Job – The pandemic has created many flexible, remote jobs that would fit perfectly into a busy grad student's schedule.
Borrow Smart – Most grad students will need to utilize student loans. Do your homework and don't pay more interest and fees than you need to!
NC Assist in the News:
NC Assist's team of regional representatives shared the 6 Steps to Funding Grad School with local media outlets around North Carolina. Our student loan experts want to ensure that students and parents explore all financial aid and funding options before they begin exploring student loans. And when student loans are needed, our experts encouraged North Carolina students to borrow smart and to review interest rates and fees to make sure they're not paying more for a student loan than is necessary.
The NC Grad Assist Loan has competitive rates and zero fees compared to federal Direct PLUS Loans. The NC Assist Loan program is administered by CFI; on behalf of the State Education Assistance Authority. CFI is a state-based nonprofit organization committed to helping North Carolina students and families succeed in their academic pursuits.
NC Assist Representative Sarita Broadway Appears on WRAZ/WRAL-Raleigh
Regional Representative Sarita Broadway discussed the 6 Steps to Funding Grad School in an interview with WRAZ/WRAL-Raleigh. She encouraged students to complete the FAFSA as the first step to qualify for grants, scholarships, student loans, and federal work-study programs. She also encouraged families to borrow smart and do their homework on which student loans are right for them, so they don't have to pay back high interest rates after graduation. Click here to watch the full interview.
NC Assist Representative Timeka Ruffin Appears on WBTV-Charlotte
Regional Representative Timeka Ruffin discussed paying for grad school and advanced degrees with WBTV-Charlotte. She discussed the Lifetime Learning Credit, scholarships, FAFSA, student loans, and more. Timika encouraged students and parents to compare loan fees, interest rates, and terms when evaluating which loans are best for them.
Click here to watch the full interview.
Click here to watch the interview on the WBTV website.
NC Assist is here to help North Carolina students bridge the gap between the cost of attendance and other financial aid. To learn more about the NC Assist Loan program, visit our website.
Go Back to News