Kicking Off to Kindergarten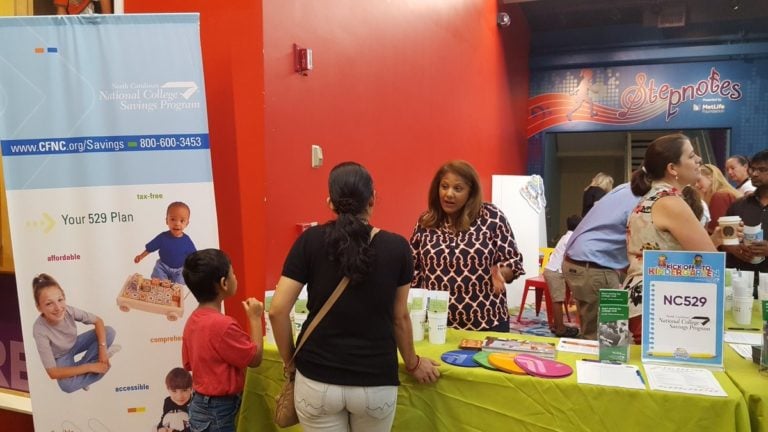 Future kindergartners and their parents had a blast at the first of two annual Kickoff to Kindergarten events that are sponsored by the North Carolina College Savings Program (NC 529 Plan). The first event was held June 21st at Marbles Kids Museum in Raleigh; the second is to be held on August 18th from 8AM – 5PM. The free event helped future students learn the ins and outs of navigating their first year of grade school. Rising kindergartners enjoyed the chance to practice a lunch line, get on the school bus, experience their first recess and more, all in a fun-filled learning environment.
Parents had the chance to learn a little something, too, at the NC 529 Plan table. Representatives from the program were available during Kick Off to Kindergarten to answer parents' questions and provide information about saving for their child's college education. While the parents were learning more, children had fun getting their photo taken with a variety of ready-for-school props – a perfect keepsake!
The NC 529 Plan is a great way for parents to save for college. While kindergarten is a significant educational milestone, it also highlights the fact that there are only 13 years to go until these young students cross their high school graduation stages. For Mom and Dad, this means that it's time to start saving now! The NC 529 Plan makes it easy to enroll, with flexible ways to contribute and a minimum contribution of just $25. And those savings can really add up as all earnings in your NC 529 Account are tax-free when used for qualified higher education expenses.
The Kickoff to Kindergarten event on June 21st was geared toward rising kindergartners in a year-round schooling program. If you have a rising kindergartner in a traditional school calendar program, join us on Saturday, August 18th, from 8 a.m. until 5 p.m. for our second Kickoff to Kindergarten event at Marbles Kids Museum in Raleigh. Click here for more information, and be sure to follow our Facebook page for updates on the event.
And for more helpful ideas for preparing your child for kindergarten, check out our Kindergarten Checklist that you can download and print at home.
Go Back to News