Give a Gift that Keeps on Giving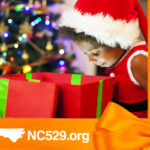 Not sure what to give as a gift this holiday season? Make a contribution to a college savings account. Friends and family can contribute as little as $25 to a student's NC 529 Account. The contribution is a meaningful gift that keeps on giving.
"It's a gift that will always be there," Hall said. "When individuals give out toys or trinkets, that's something that won't be with them for a lifetime. But a college education is something that they can have that will never fade away."
Read the Reflector.com article.
Go Back to News