#FirstDayofSchool2018 Giveaway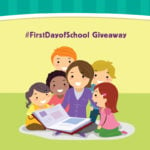 We had so much fun at the Marbles Kids Museum Kick Off to Kindergarten this month that we want to continue celebrating the back-to-school excitement! We're giving away Marbles admission tickets and tickets to the IMAX Theatre at Marbles to celebrate the first day of school.
Prize: Package of four Marbles Kids Museum admission tickets and Marbles IMAX tickets.
Dates: August 30, 2018 at 9:00 AM until September 15, 2018 at 5:00 PM or until supplies run out, whichever is first.
How: Just post a picture of your student on his or her first day of school to the NC 529 Savings Plan page on Facebook with the hashtag #FirstDayofSchool2018.
Details:
Entrants must post a photo of his/her child's first day of school on the NC 529 Plan Facebook participate. Prize Package consists of 4 Marbles tickets and IMAX tickets.
Entrants must be at least 18 years of age.
Photos from students attending Traditional, Year-Round, and Homeschool can be entered.
Giveaway runs while supplies last OR until September 15, 2018 at 5:00 PM EST, whichever happens first.
While we want to celebrate the excitement of all children, only one prize package per family will be provided, regardless of the number of times posted.
Duplicate photos, inappropriate photos, and photos not meeting promotion requirements will be removed from the NC 529 Plan Facebook page, at the NC 529 Plan's sole discretion.
The NC 529 Plan reserves the right to cancel, modify, or suspend this promotion at any time for any reason.
This promotion is in no way sponsored, endorsed or administered by, or associated with Facebook. You understand that you are providing your information to the owner of this Facebook page and not to Facebook.
By posting your child's first day of school image to the NC 529 Plan page on Facebook, you are agreeing to the following:
By posting my photo on the NC 529 Plan Facebook page, I hereby grant to College Foundation, Inc. (Program Administrator of the NC 529 Plan) and those acting with its authority and permission (collectively "CFI"), the irrevocable and unrestricted right and permission to use, re-use, publish, and re-publish photographic portraits or video of me, my minor child, or in which my minor child or I may be included, in whole or in part, without restriction as to changes or alterations, or reproduction ns thereof in all media now or hereafter for television, print, outdoor, website, Internet or collateral for CFI, North Carolina State Education Assistance Authority (NCSEAA), the NC 529 Plan and College Foundation of North Carolina (CFNC).
I grant this right without compensation and for an unlimited time. I understand that neither my last name nor my minor child's last name, as applicable, will be used publicly by CFI in conjunction with my photo or video. I hereby waive any right that my minor child or I may have to inspect or approve the finished product or products and the content or advertising copy or other matter that may be used in connection therewith or the use to which it may be applied. On behalf of myself and my minor child, as applicable, I hereby release, discharge and agree to save harmless CFI, NCSEAA, the NC 529 Plan, and CFNC from any liability by virtue of use of photographs or video of me or my minor child, as applicable. They may do so without any claims for libel or invasion of privacy.
We wish everyone best of luck on the #FirstDayofSchool2018 and an exciting 2018 – 2019 school year!
Go Back to News