Entry Level Work from Home Jobs: Career Readiness for High Schoolers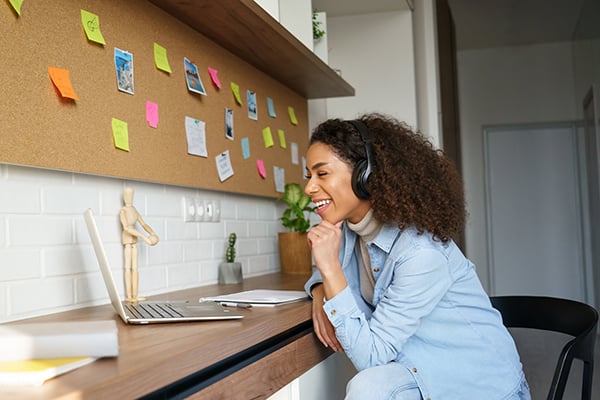 If you're looking for a job that you can do from home and you have little to no work experience, your options are not as limited as you might think! The remote-working industry exploded during the COVID-19 pandemic, and it helped change the face of the typical employment situation. Working from home is easier to do now than ever before, and an increasing number of industries are accommodating remote work requests from employees of all ages — even high school students!
When you're exploring the options of an entry-level work-from-home job, here are some things to think about and resources to help you.
Transferable Skills
While you may not have previous work experience, you do have transferable skills. These are things you have learned through work or in life that you can use in any job. There are both hard and soft transferable skills.
A hard skill would be something like coding or data entry capability. A soft skill would be your ability to manage time well or being able to multi-task. By highlighting your transferable skills, you will definitely have more to add to your resume than you think.
Real Jobs With Transferable Skills
In case you're curious as to the kind of entry-level work-from-home jobs available, here are some examples and the transferable skills an employer may be looking for:
Data Entry Analyst – Skills in Microsoft Word and Excel, ability to work independently, and great communication skills
Sales Representatives – Enjoy working with people, willing to learn and apply new skills, accept applicants of all ages and experience
Online Computer Programming Instructors – Students with or without experience are welcome to apply
Customer Service Representative – Friendly, punctual, basic computer skills, eager, and willing to learn
There's No Limit on Jobs
There is no limit on the types of entry-level, work-from-home jobs available today — options exist in almost every field. So, the question becomes, what do you want to do?
Spend some time exploring your interests and possible occupations you'd like to pursue after high school and college. With your newly discovered transferable skills, you can explore careers that provide you with a work-from-home opportunity that can grow as you grow. Maybe you will choose to work remotely for your entire career, and maybe there will come a day when you want to join an in-person workforce. Getting off to a good start with a solid foundation will help you have a career for life.
Resources to Help Your Find a Job
If you're still in high school, your Career Development Coordinator (CDC) is a great resource for you. They are your contact for career and technical education programs and course information. They can also help you with work-based learning, career events, career and interest assessments, essential employability skills, resumes, and more.
Another resource for you is the NCWorks Career Centers. They can help you find work, improve your skills, prepare for interviews, and learn how to pursue your career goals. There are more than 80 NCWorks Career Centers across North Carolina, and their services are offered for free for youth ages 16 to 24.
The NCWorks NextGen Program is also available to youth ages 16 to 24 and assists students who face a barrier to employment. This might mean that you have certain challenges with specific skills, a disability, or another challenge that is preventing you from obtaining employment. There are multiple offices throughout the state. Services are free of charge.
Whether you are planning to work from home out of necessity or by choice, an organized work-from-home space will make your remote working experience more successful. In addition, you may need to invest in equipment or internet services to function best in a remote working environment. Some jobs may provide you with a computer and other equipment you'll need for the job. Read job descriptions thoroughly to understand this information or ask about it during the interview process if the information is not provided.
Keep Working Through College
Don't forget that your entry-level work-from-home job can travel with you when you go to college. Studies show that students who work 10 to 20 hours per week while in school get better grades and are more likely to graduate. You can earn money and keep gaining experience. It could give you a leg up on the competition when you're interviewing for a full-time job after graduation.
Are you ready to start planning your college and career future? Create a free account with College Foundation of North Carolina (CFNC) and take advantage of our online resources. We're here to help students and parents plan, apply, and pay for college.  
Go Back to News