Don't Be Scared. Be Prepared.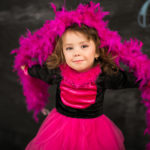 This Halloween, there's no reason to get spooked by the prospect of paying for college. Instead, get prepared. We tell our kids all the time how important it is to prepare. Prepare for that big test. Prepare for that big game. Practice, practice, practice. For the things that are important to us, we prepare. For major investments, we save. We save for our first home. We save for our retirement. And we save for college. If we prepare, our anxiety is reduced and success is more likely to follow.
Need more convincing? Heed the wise words of Founding Father Benjamin Franklin,
Today's preparation determines tomorrow's achievement. By failing to prepare, you are preparing to fail.
Here at The North Carolina College Savings Program (NC 529), we are making it easier than ever to prepare for the future today.
Did you know:
You can create a college savings account and enroll online in about 10 minutes. There are no enrollment fees or sales charges, and the minimum contribution is only $25! You can start saving TODAY.
Your NC 529 Account earnings are free from federal and North Carolina income taxes when your withdrawal is used to pay for qualified higher education expenses such as tuition, fees, room and board, books, and the cost of a computer and associated equipment.
Use the money saved in your NC 529 Plan for virtually any college, in-state or out-of-state. NC 529 offers a variety of investment options with a range of strategies from conservative to aggressive. Make monthly contributions, using either automatic draft or one-time drafts or payroll deductions (if allowed). You can also make lump-sum payments.
Adjust your contribution amount at any time. You can change your current investment mix twice each calendar year or if the beneficiary changes.
Anyone can make a contribution to your account at any time, making it the perfect gift, or Halloween treat.
Contribute up to $14,000 a year per person on behalf of a beneficiary, without incurring a federal gift tax, for a Beneficiary maximum of $420,000.
Transfer funds from one beneficiary to another as long as he/she is a member of the former beneficiary's family.
No tricks here just treats from the preparation that allows you to enjoy the beauty of compound interest, the peace of mind that comes with saving, and a bright future.

Happy Halloween!
Go Back to News