Diapers to Dorms Dash: Is Your Crawler Ready to Race?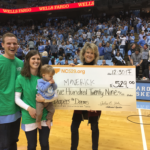 From reading bedtime stories and stacking blocks to opening a college savings account, like an NC 529 Account, parents begin preparing their children for higher education almost as soon as they are born. That's why the Diapers to Dorms Dash that was held on December 30, 2017, was such a wonderful fit for the NC 529 Plan.
What is the Diapers to Dorms Dash?
The event offered five crawling children the chance to race against one another during halftime of the UNC men's basketball game. Crowds cheered on the little cuties as they scooted across the floor trying to win $529 in NC 529 Plan college savings. Not to be left out, all of the race participants were given $25 in NC 529 Plan college savings. Here's a peek at the event as it unfolded:

It's Your Turn! Enter the January 27th Race.
If you have a crawler who would like to participate in the upcoming race, and get a head start on his or her college savings, enter today. We're accepting entrants through January 19th, and five (5) children will be chosen at random to participate. Like before, each racer will receive a $25 contribution to their NC 529 Account, and the winner will receive a $529 contribution to his or her Account. (If you don't currently have an Account, one will be established with the child as the beneficiary.)
The next race will be held on January 27th during halftime of the UNC / NC State men's basketball game in the Dean Dome in Chapel Hill. 
There are many ways to enter your crawler:
Post a public photo of the crawler on Instagram with #NC529Dash
Post a public photo of the crawler on Twitter with #NC529Dash
Enter via the NC 529 Plan Facebook page using the Diapers to Dorms tab on the left, or
Go directly to Woobox to upload a photo.
Why is this race important?
Said Laura Morgan, Vice President of Communications, Savings, & Legal Affairs, "We want people to think about starting to save for college when their kids are just little bitty babies like these crawlers we had today." Hear her interview and watch highlights from the first Diapers to Dorms event on the Spectrum website.
Go Back to News