Congratulations to the Winner of the NC 529 College Savings Month $5,529 Giveaway!

To celebrate National College Savings Month in September and encourage families to save for education, NC 529, North Carolina's National College Savings Program, gave away $5,529 to one lucky family! Thank you to everyone who made saving for K–12 tuition and college expenses a priority and entered to win this exciting giveaway! The drawing closed on September 30, 2022, and a name was randomly drawn from the entrants.
And the Winner is…
Congratulations to the Holt family of Durham, North Carolina! They received the $5,529 contribution to put towards the future education of their three children — Elias, Everett, and Cora.
"It means so much to me," said Ebin Holt. "This will really give us a great head start on these accounts for my children's future. We are so happy for this big boost!"
Each child has their own unique dreams and goals. Elias, currently in sixth grade, wants to be an archeologist. Everett, in third grade, has dreams to be a YouTuber and gamer. Cora, in first grade, wants to be an astronaut.
"Even if my kids find out that a university is not for them, they will be able to use this money for a trade school or an apprenticeship for their future careers," said Holt.
The family plans to split the funds evenly among the three children's NC 529 Accounts. With plenty of time before college, the family plans to keep saving so they're ready for whatever type of schooling the children will be interested in when the time comes.
About National College Savings Month
National College Savings Month was established in 2003 by the U.S. Congress to raise awareness about the importance of saving for education. It's the perfect opportunity for parents to open an NC 529 Account and start investing in their child's education. It's also a good time for parents who already have a financial plan to review existing education accounts and commit to increasing their savings goals.
In the News: CFNC Regional Representative Takeila Barnes Hall Appears on WGHP-TV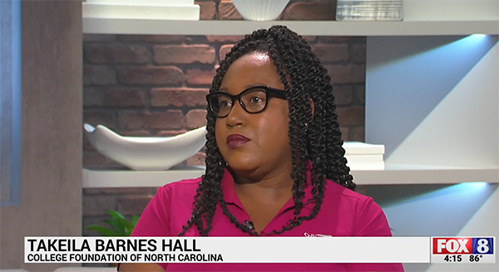 NC 529 is part of the College Foundation of North Carolina (CFNC) family. CFNC's goal is to help North Carolina families as they plan, apply, pay, and save for education. CFNC has a statewide team of regional representatives who crisscross the state, spreading the word about the giveaway and the amazing tax advantages of the NC 529 Plan.
CFNC Regional Representative Takeila Barnes Hall sat down with WGHP-TV to discuss the benefits of planning for the future with NC 529. While many parents start saving for K–12 tuition and college expenses when their children are born, she said it's never too late to start saving for education.
"One of the first things is to make the decision that you want to begin saving, and then we encourage them to visit our website. They can enroll at CFNC.org, and then have it drafted from a checking or savings account or payroll deduction," said Barnes Hall on WGHP-TV.
Other ways families can plan to save for education include:
Working teens can help save for college.
Students can take Advanced Placement (AP) classes in high school to earn free college credits before they step on campus!
Students should apply for as many scholarships as possible.
The minimum contribution to open an NC 529 Account is just $25, and Barnes Hall tells parents that family and friends can contribute to accounts as well.
Click here to watch the full interview.
Go Back to News