College Prep in Middle School: What 8th Graders Should Know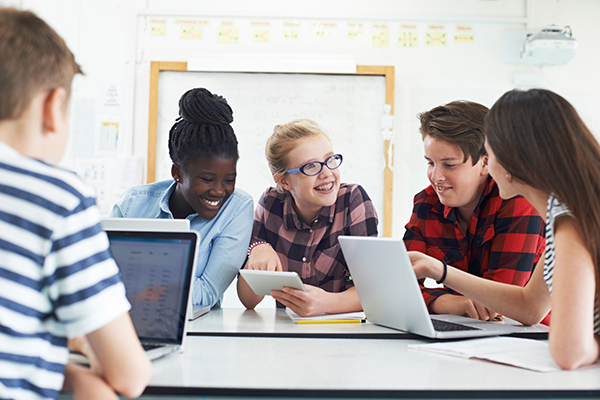 Do you remember the first time you saw college students? Whether they were at a local coffee shop or walking with friends on campus, you probably thought they looked cool, old, or slightly intimidating. Maybe you daydreamed about your own future life as a college student with the freedom to choose your own path.
In eighth grade, college may still feel like a distant dream. But in a few years, you will meet the moment you've been waiting for: the first day of college! It's a great time to do some basic preparation for your future.
Starting college prep in middle school doesn't mean you have to know exactly what you'll study in college or what career you want to pursue. It means exploring your interests, planning, and setting yourself up for success when it's college application time!
Here's how to prepare for college now; while still leaving room for yourself to grow and evolve.
Start Strong
Your first day of high school is around the corner! The beginning of the year is all about adjusting, learning, and listening. Your teachers and counselors are genuinely thrilled when students openly ask questions. Show that you want to learn, and you'll make a great first impression on teachers, who might write you a college recommendation letter later on.
Aim high and do your best in your new classes. By earning a good grade point average (GPA), you'll create a strong foundation and get on track to take college prep classes like AP (Advanced Placement) or take college-level courses to earn college credit while still in high school.
For everyone, adjusting to a new environment and schedule takes time. Expect that you'll make some mistakes at first; don't see them as failures, only opportunities to learn important lessons for the future. But if you repeat your mistakes too much in freshman year, you'll have less room to recover from them later.
'Shop' Your High School Class Catalog
Most high schools have an online class catalog that lists all the classes offered, plus extracurricular activities and other information. Take time to browse through the catalog well before it's time to register. You may find a few classes that sound intriguing, like human geography or environmental science. Embrace the variety and take note of what interests you.
Look carefully at the higher-level classes (for 10th through 12th grade) and review the prerequisites. Prerequisites are classes you'll need before you can take a more advanced course. For some honors and AP courses, you'll need a teacher to refer you and strong grades in previous classes in that subject.
Don't worry, in eighth grade, you don't need to draw out your entire roadmap for high school. Instead, reach out to your future high school counselor, whose job it is to answer all your questions. They can help you understand more about class credits and graduation requirements and help you draw your roadmap as you go.
Get a Tutor
Not a math person? Get bored just thinking about writing? Whatever subject challenges you, there is someone for whom it's their favorite — a tutor! Tutors are there to work with you 1 to 1 or in a small group, understand your unique learning style, and help you grow where you need improvement. Want to learn more about your unique learning style? Use the CFNC Learning Style Inventory survey to get a better understanding of how you learn and work.
In high school, classes move at a faster pace. Avoid falling behind by getting extra prep, practice, and support now. Ask your middle school teachers or counselors to recommend tutors at your school, or within your community, or find virtual tutors online. There are a lot of free options for extra help, and remember that everyone needs a little help sometimes.
Check Out College Scholarships
Did you know that you can start applying for college scholarships as early as elementary school? A scholarship or grant is free money for college that you don't have to pay back. If you win one many years before college, it's typically held for you to use when you're ready.
There are several opportunities for eighth-graders to earn a scholarship. Most will ask you to explain why you deserve the scholarship in an essay or statement. You'll write plenty of similar essays in school and for college applications, so applying for scholarships is great practice for both. Of course, you might get free money for college out of it, too! While most scholarships require applicants to be a senior in high school, there are some for younger students, so be sure to do your research.
When you get closer to heading off to college, check out the CFNC Scholarship Search, as well as other free scholarship databases with thousands of unique opportunities for students of every background.
Visit a College Campus
Visiting a college campus, whether it's your local community college or an out-of-state university, could be the best form of college prep in middle school. There's nothing like seeing day-to-day college life for yourself, to turn it from an idea into a reality you can work toward!
Most colleges provide year-round campus tours, but you can also just go with family and walk around with a self-guided tour. Try visiting a few different campuses so you can feel the different vibes of each place. Then, think about your experiences at each college and what you liked or didn't like. Knowing what you want will help when it's time to apply.
Pursue Your Passions and Discover New Ones
Now is a time to explore your natural talents and learn more about your personal interests. What captures your attention? What makes you feel alive and inspired? Maybe you love animals and watching documentaries about different species across the world. Or you've played piano for years and now want to try a new instrument.
When you pursue your passions and broaden your horizons to discover new ones, it adds joy to your life — and makes you stand out on college applications. Find out how your interests and skills may lead to a college major or a career by using the Interest Finder.
Plan for High School, College, and Beyond with CFNC
At CFNC, we're happy to provide free resources and tools to help eighth-graders think more seriously about their future. Create your own CFNC account today — we can't wait to help you on your journey toward college!
If you have more questions, check out our Plan for College FAQs and other resources just for you.
Go Back to News