College Planning Timeline: Getting Ready for College

A child heading off to college is a big event for any family. But long before move-in day, there are lots of things to accomplish. From choosing a school and a major to standardized tests and financial aid, the tasks may seem overwhelming.

Even if a sibling or other member of the family has applied to college, chances are nobody wrote everything down or created a checklist the family could use when it was time for the next person to start the application process. This helpful college planning timeline will keep you organized and ensure you don't miss very important dates.
Grades and Classes
The college planning process really begins on day one of high school freshman year. A student's grade point average (GPA) is one of the biggest factors of college admissions. Now, one bad grade during your freshman year does not mean the end of your college dreams. Freshman year can be a big transition from middle school, and college admissions officers understand that. So, they'll be looking for how you learned from that experience and whether your grades improved the next year.

Consider taking honors and Advanced Placement (AP) classes. Talk to your current teachers and ask for their recommendations about which courses may be right for you. Doing well in challenging courses will prepare you for future academic courses, improve your GPA, and look good on college applications. AP courses could also qualify students for college credit while still in high school.
Sports, Clubs, and Volunteering
Getting involved in extracurricular activities is a great way to make new friends and develop leadership skills. Sports teams and school clubs also will create lifelong memories of your high school career. Consider joining sports or clubs that truly interest you. Volunteering at an animal shelter or applying for a summer internship at a local company are also great ways to explore future careers or just learn something new.

Of course, activities also look good on college applications. That's because colleges want well-rounded students who pursue their passions and actively seek out ways to develop leadership and teamwork skills. Don't overschedule yourself. Join something you truly enjoy and become an active part of the group. Remember to keep track of any extracurricular activities, leadership roles, and awards so you have all the information in one place when it comes time to start the college application process.


Standardized Testing
Junior year is when it really helps to have a college planning timeline to rely on. During junior year, most public-school students in North Carolina take the ACT in school for free. This is a great opportunity for juniors to take the test in a familiar environment.

Think about it. Taking the test during the school week, during regular school hours, and in a familiar setting, can reduce test-taking stress and allow you to focus on doing your best. Students who register for tests outside of school hours are usually taking them early on a Saturday morning and in an unfamiliar school. So, make the most of the free test in school, to get a score you'll be happy with.

Whether you decide to take the ACT or the SAT, prepare ahead by studying test-taking tips and taking sample tests online. Consider joining a test prep club at school or ask a teacher about organizing after-school study sessions.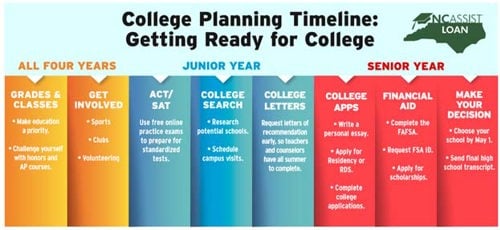 Schedule Campus Visits
Days off school and holiday breaks during junior year are good times to schedule college campus visits. First, spend some time planning for college by researching schools and majors online. Make a list of all the schools you're interested in and specific majors that match your interests.

Once you have a list of potential schools, start scheduling campus visits. Most schools offer official tours during the week, so register well in advance if you're thinking about going on a day off school. Those dates fill up the quickest.

Visiting campus and taking a tour from a current student could really give you a feel for a school and how you might fit in there. However, if you can't make it to an official tour, most schools offer self-guided tours on their websites or even through mobile apps.
Letters of Recommendation
During the college search, make note of which schools will require a letter of recommendation for your admission application. Applications are not due until senior year, but if you need a letter of recommendation, consider asking a teacher or school counselor before junior year ends. That way, they can have the entire summer to write something amazing about your academic drive and leadership skills.
College Applications
Since most students believe that senior year really begins the minute you complete that last final exam of junior year, consider using the summer to get a head start on college applications!
Personal Essay
Why not begin your personal essay? Whether you're using the Common App or the Coalition App to apply to colleges, you will need a personal essay.
Start by reviewing the essay prompts and brainstorming a topic that's right for you.
Ask a parent or friend to proofread your essay for grammar and punctuation mistakes.
Finally, after school begins in the fall, ask a teacher or counselor to give you some honest feedback.
Taking the time to complete all these steps, instead of rushing through the essay with application deadlines looming, will ensure you feel confident about the essay you submit.
Residency or RDS
Establishing North Carolina residency on ncresidency.org allows students to be eligible for in-state tuition and is an important part of applying for state grants. You will need an RDS number when completing college applications for schools in North Carolina.
College Applications
Summer and fall of senior year are also good times to start college applications, especially if you're planning to take advantage of the early decision or early action deadlines. Some of these deadlines arrive as early as October or November. If you're planning to apply for regular decision, most schools set those deadlines sometime between January and March, so check each school for their specific deadline.
Financial Aid
Applying for financial aid is also an important step in the college application process. Paying for college is something that parents and students should discuss openly and honestly. This is also a good time to discuss whether your family will apply for student loans to cover some of your school expenses.
FAFSA
Complete the Free Application for Federal Student Aid (FAFSA) in the fall of senior year. This gives you access to federal, state, and institutional aid to pay for college. You will need to complete the FAFSA every year you plan to attend school. Families can begin submitting the FAFSA forms on October 1 for the following school year. Complete the forms as soon as possible, because some state aid does run out.
FSA ID
Each student and one parent will need an FSA ID. You can apply for it at fsaid.ed.gov. The FSA ID is a unique username and password that serves as your legal signature to sign the FAFSA forms. Once you receive this information, keep it in a safe place. You will need it every year to sign the FAFSA forms.
Apply for Scholarships
Apply for as many scholarships as possible to help defray the costs of college. There are many online resources to find scholarships that you qualify for. Remember, you should not have to pay for submitting scholarship applications. Find a list of North Carolina scholarships here.
Make Your Decision
Once you've heard back from all the schools where you applied, it's time to carefully consider your options and choose the school that's right for you. The deadline to pick a school is May 1 - National College Decision Day. Finally, don't forget to request a copy of your final high school transcript be sent to your future school after graduation. Good luck!
Go Back to News