9 Career Planning Apps & Tools to Help You Get Ahead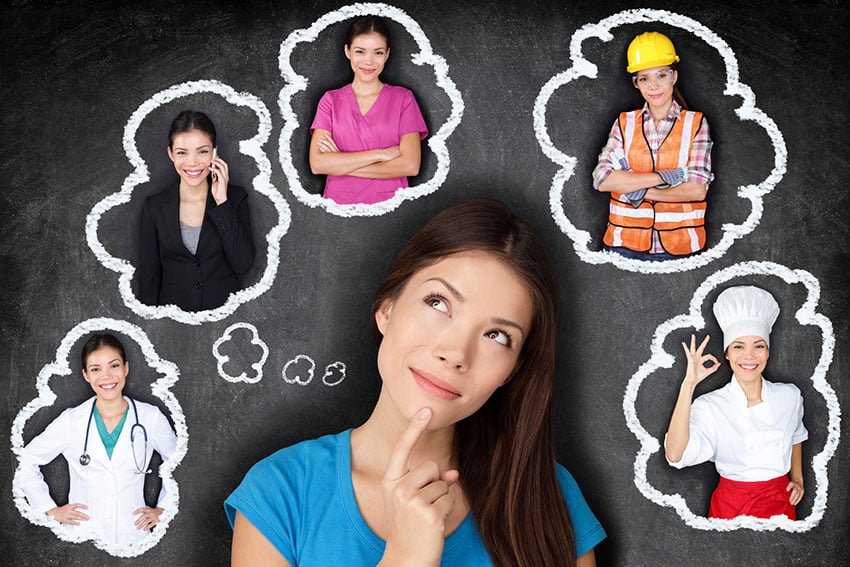 Before college graduates start celebrating, it's important they connect all that they've learned with that future career. They say that the early bird gets the worm. It turns out that the early applicant often gets the job. As you prepare to enter a highly competitive job market, it's vital you stay ahead of the game and do everything you can to boost your chances.
Half of finding the right job to start your career is knowing where to look. It also helps to have a plan. We put together this list of career planning apps to help students find and apply to jobs and learn to plan their careers while still in school.
1. LinkedIn
You may have heard people joke about LinkedIn as nothing more than a site for salespeople to try to sell you stuff, but it's still a valuable tool for building your career. LinkedIn is a great resource for detailing your education and experience online and networking to find new connections in all sorts of industries.
Beyond networking and industry news, LinkedIn is also a great way to get in touch with job recruiters. Make sure you optimize your LinkedIn profile and let recruiters know you're in the job market. Your LinkedIn dashboard is also a great place to find tips on how to make your profile stand out.
Follow the dashboard advice and use the right job keywords in your resume to ensure you attract the attention of the right recruiters. And don't forget to adjust your profile settings to let recruiters know you're available! You may be surprised by how many employers will reach out to you directly.
2. Glassdoor
By now, students are likely familiar with Glassdoor. The online company review and job search site is an excellent resource to learn more about businesses where you might want to work. This is especially true when it comes to what former and current employees are saying about the company, jobs, and bosses.
However, Glassdoor is much more than a job review board. It's also a great place to find and apply for jobs themselves. Sign up for notifications and set alerts for certain companies so you're always in the know about hot new jobs.
3. CFNC Career Exploration Tools
These other sites are excellent resources when it comes to finding a job or career. But where do you go to start planning before you start job-hunting? CFNC has partnered with NCcareers to provide students and adult learners with career planning tools to find, compare, and explore potential career options.
Use your CFNC user ID and password to log in at both CFNC.org and NCcareers.org and browse different career clusters to discover what's available in different industries. You can also take career assessments and save the results on your CFNC dashboard.
If you don't have a CFNC account, you can create one for free. It's also helpful for college searches, applications, completing North Carolina residency requirements, and more!
4. Canva
Canva is another free tool to help students get a jump start on their careers. The website's free resume builder is a wonderful way to build a resume that looks good and stands out for all the right reasons. Choose from their collection of templates and customize them to meet your needs. You can save your resume as a PDF, JPEG, or PNG file and print it at home to save you time and money.
5. Online Job Search Platforms
Major job search platforms are also incredibly effective at helping you find job listings and getting your resume in front of millions of people. Most of these sites also feature company reviews, career advice, and salary tools to help you narrow your search.
With so many platforms available like Indeed, Monster, CareerBuilder, and ZipRecruiter, it can be tough to decide which job search website is right for you. Choose one site or several to upload your resume and apply for open positions. They're completely free and ensure you stay up to date on all the latest job openings. 
6. Dice Careers
The tech industry is one of the hottest job sectors around. With plenty of opportunities for growth and a reputation as a recession-proof field, it's no wonder so many students want to find careers in the tech world.
Dice is a job search platform focused on tech careers. You can search jobs based on specific skill sets that align with your education and training. You can also use Dice to develop your own career path based on your current job, experience, and personal goals.
7. USAJOBS
A job in the government sector can lead to a long and successful career for many students. Starting a career in government doesn't mean you have to go into politics or the armed forces. There are all kinds of positions and careers in a wide range of fields. Add competitive salaries, benefits, and job security to the mix, and you have a recipe for a great career.
USAJOBS is the official career website for the United States government. The site helps students and job seekers find internships, available jobs, and even job programs specifically designed for recent graduates. If you haven't considered a government career before, it's definitely worth your time to learn more about these opportunities.
8. Grammarly
By now, you know where to search for careers. However, it won't help much if your resume and cover letter are full of typos and grammatical errors. Nothing makes a hiring manager skip your application like making careless mistakes. It shows that you don't take the company or their position seriously.
Apps like Grammarly can be lifesavers in protecting recent grads from potential embarrassment. It can help you put your best foot forward on resumes, applications, cover letters, and more.
9. Start Your Career Path with CFNC Today
The best way for students to find the right career path for them is to pound the digital pavement and start sending job applications. Our ultimate career planning guide can get you started while these career planning apps help bring you to the finish line. Create your CFNC account now to start planning for your future career today.
Go Back to News