Can I Save For College As Easily As I Save For Retirement?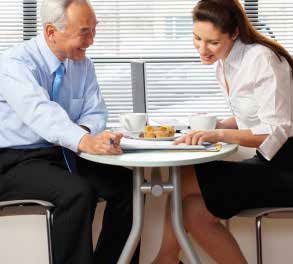 When it comes to saving money to pay for college, many parents are doing it the old-fashioned way: that is to say, they're hoping for a miracle! A survey conducted in January of this year found that 57 percent of the parents polled had saved less than $10,000. But the survey found that parents do have high savings hopes.
Forty-five percent said they hoped to save more than $30,000 by the time their child was college bound.
One out of every five parents surveyed said they hoped to save as much as $50,000 for their child's college tuition costs.
When it comes to saving money, every little bit helps. But it can be difficult to put money into an account when unexpected expenses seem to come around every month. All it takes is the need for new tires for your car or a sudden illness and BOOM; there goes that month's savings plan. That's why contributing to an NC 529 Plan® through your employer makes so much sense.
Benefits for Employees
When your employer allows you to contribute to your NC 529 Plan through payroll deduction or automatic draft, then saving for college can be as easy as saving for your retirement. It's a little like automatically saving for retirement each month. An AARP study found that people are 15 times more likely to save if they have access to a payroll deduction savings plan at work! And that's not the only benefit to a plan through your employer:
No enrollment fees or sales charges to open an account
Low minimum contribution of just $25
Multiple contribution methods
Age-based portfolios and individual multi-fund investment options
In many cases, account earnings are free from federal and North Carolina income taxes when used to pay for qualified higher education expenses
Savings can be used at any eligible college or university, virtually anywhere
Benefits for employers
And it's not just the employees that reap the benefits. Employers can experience tangible benefits with minimal effort. The NC 529 Plan is a win-win for employees and employers. Employers can offer this savings opportunity to their employees through company payroll deduction or employee automatic draft at no charge. There are no set-up fees or administration charges, nor will there be any governmental reporting. We'll even do a presentation at your worksite or participate in your benefits fairs, if you want. So how does all this benefit employers? It's a perk that can help you a lot in the long run by:
Attracting and retaining top talent with a competitive benefits package.
Driving employee loyalty by caring for the entire family.
Becoming a positive corporate citizen by making the education of your community a priority.
We'll Help You Start
If you're an employee or an employer, you can learn more about the NC 529 Plan by visiting our website at www.nc529.org. If your workplace doesn't have this benefit, it might be worth a visit with your benefits administrator to talk about the possibility of adding it. If you are an employer and you want to know more, you can always call us toll-free at 800.600.3453.
Go Back to News