Babies Crawl Toward Touchdowns and College Savings in NC 529's Diapers to Dorms Dash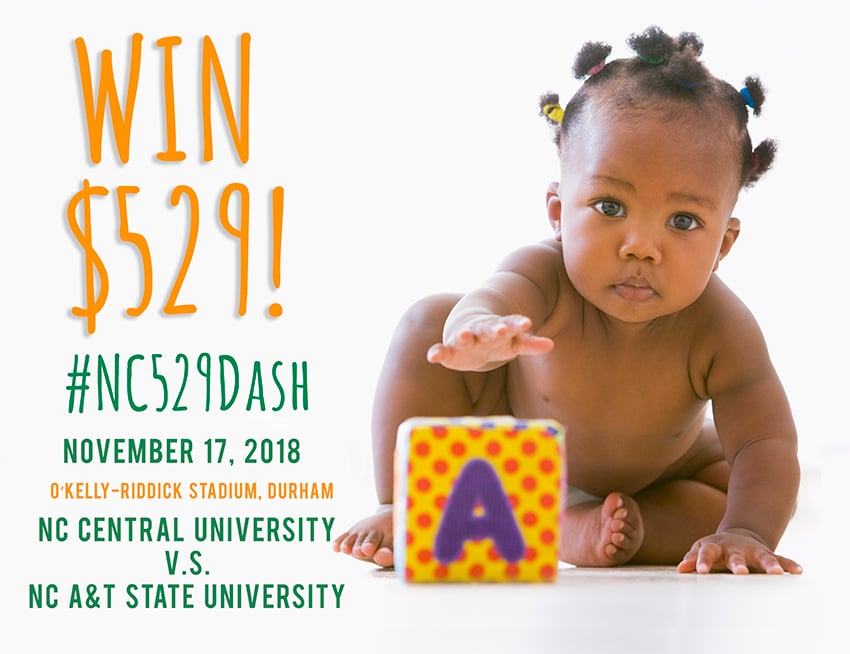 Crawlers Compete at NC Central and A&T Football Game for a Chance to Win $529 in College Savings
Babies will be crawling towards a touchdown between the first and second quarters of the NC Central and A&T football game in Durham on Saturday, Nov. 17. These quickly-crawling babies will compete to win $529 contributed to an account in the NC 529 Plan, also known as the North Carolina's National College Savings Program.
Parents can enter their babies into the contest promoted on NC 529's Facebook, Twitter, and Instagram pages. To compete, a baby must be between six and twelve months old on Nov. 17 and must not be walking yet. Four babies will be chosen from entries to compete for the $529 during halftime of the NC Central versus A&T football game in Durham. Each of the babies will be trying to crawl to his or her cheering parents a few yards away.
There will be laughing. There may be crying. But none of the racing tots will go home empty-handed (and we're not talking about rattles and toys). Each participant will receive $25 contributed to his or her NC 529 Account, while the winner will receive $529 for his or her account.
"No matter whether you're an Eagle or an Aggie, we think everyone will be cheering these kiddos on to saving for college," says Michael Ochsenhirt, NC 529 Savings Program Services Manager. "As much fun as this event is, it is also a great reminder about the importance of starting early to save for education. It's never too late to save for a college education."
Saving for a student's college education can feel like a long race, but the earlier parents start investing for their children, the better the prize can be at the finish line. The NC 529 Plan offers age-based investment options for beneficiaries of all ages, from newborns to adults planning to go back to school. Learn more about the NC 529 Plan with its low-cost investment options, tax advantages (free from federal and North Carolina taxes when used for qualified higher education expenses,) and other benefits, by calling 800-600-3453 or going online to NC529.org.
Go Back to News