Another Successful Diapers to Dorms Dash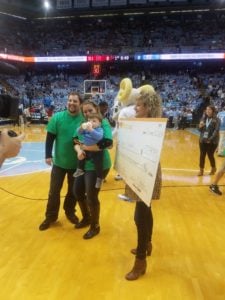 Crawlers raced to the finish line during the pre-game show at the UNC vs. N.C. State men's basketball game on January 27th. Six babies went head-to-head during the second Diapers to Dorms Dash in hopes of winning some college cash. As Ramses cheered on the babies, it was one-year-old Austin Tillman who was first to cross the finish line. Even though the Tillmans won $529 to contribute to their NC 529 plan, the five other contestants all received $25 to start their own NC 529 college savings accounts! Everyone went home a winner!
Click here to watch the babies at half court!
Go Back to News