529 College Savings Account Gift Card/Certificate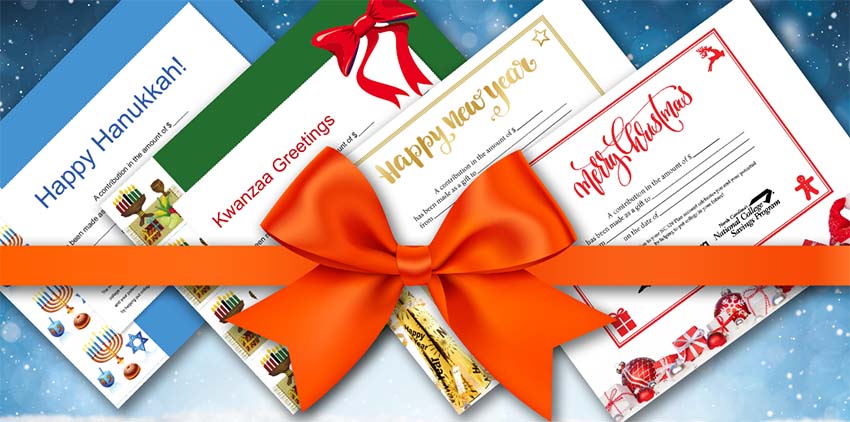 The holidays are approaching, and many parents and grandparents are wracking their brains, trying to come up with a great gift for the children in their lives. You can give them another toy or a sweater, but what about something for their future? Giving the gift of a college education is something they won't outgrow or break. A 529 gift card also shows kids that you're focused on their future success.
Benefits of 529 Contributions
With college costs increasing every year, many grandparents may feel it's their responsibility to make sure a college education is part of their grandchild's future. Talk to your financial advisor if this is something that you want to make a priority. They will likely suggest contributing to the child's 529 Account. These plans allow the earnings to grow tax-free if they are used for qualified education expenses such as college tuition, K–12 tuition, room and board, and more.
Each grandparent can contribute up to $15,000 per year to each grandchild's 529 Account, without triggering an estate or gift tax. That means married grandparents can contribute up to $30,000 annually to support each grandchild's education.
Hey parents! Do you complain that your kids have too many toys? So don't be shy when someone asks you what to give your kids for a holiday gift. Suggest a 529 gift card! It's something many people will be happy to give.
How to Purchase 529 Gift Cards
Purchasing a 529 gift card could not be easier, because you don't have to leave your house! First, you will need the 529 account number for each child. A grandparent can ask the child's mom or dad for this information. We guarantee they'll happily give it to you because chipping in for college is a win-win for everyone in the family!
Many parents open an account for their child shortly after they are born. It's a great way to make saving a regular habit so the fund has many years to grow. Most states, including North Carolina, have tax-advantaged 529 education accounts. Parents and grandparents can contribute simply by writing a check.
Contributions start at $25 per account.
Make checks payable to "NC 529 Plan."
Write the account number on the memo line of the check.
Mail checks to: NC 529 Plan, PO Box 40877, Raleigh, NC 27629-0877.
After you mail in the check, you can have fun sharing the news of your generous holiday gift.
Creative Ways to Wrap Your Gift
Whether you're making an education contribution for Christmas, Hanukkah, Kwanzaa, or to celebrate the New Year, you can download and print a 529 gift card to personalize. But don't stop there! Add some pizzazz to show kids how excited you are about their future.
Inspire them to greatness! — Wrap the gift card with a t-shirt from your alma mater.
Sugar and spice and everything nice! — Hide the certificate in a box of candy.
Expand their horizons! — Include the gift card with a new book.
Kids will be excited that you put so much effort into their future college dreams.
It's Never Too Early to Start Saving
The season of giving is a great time for all parents to think about their children's future college needs. Even parents of very young children can start a college fund for their child. There are many options, including opening a savings account at your local bank or starting a mutual fund.
However, 529 education funds are tax-advantaged accounts where the earnings can grow tax-free. And while the holidays are a great time for family and friends to contribute to education accounts, parents can put money aside all year long through automatic payroll deductions or bank transfers.
Go Back to News