4 Ways to Give the Gift of College Savings (U.S. News & World Report)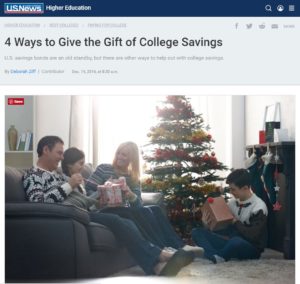 The US News and World Report recently featured a Durham, NC grandfather who is helping his family save for college. Instead of giving physical gifts during the holiday season, he is contributing money to his grandson's college savings plan each year. And, he's not alone. According to the article, 84% of parents would prefer that their children receive money for college in place of physical gifts during the holidays.
The article references four ways in which family members can contribute to a college savings program on behalf of someone else. Going directly to the college savings plan website is one option, along with offering checks, gift cards and cash.
What is your opinion? Do you feel as though the children in your life could benefit from additional money for college? Would you consider contributing to a college savings account instead of, or in addition to, offering a wrapped present?
Go Back to News