110 Great College Choices in North Carolina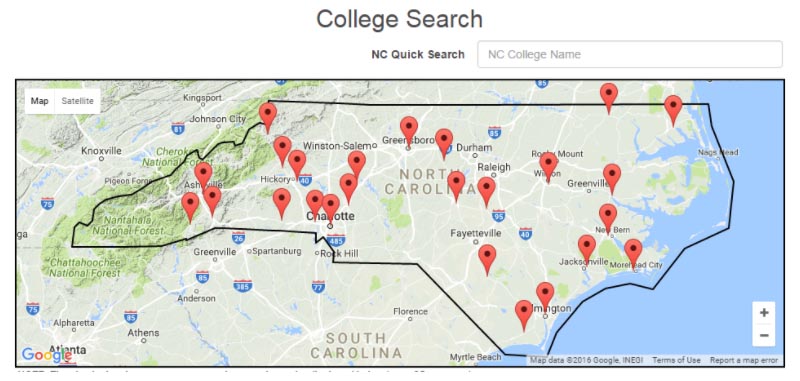 Colleges and universities are not one-size-fits-all, and you'll want to determine the ones that most closely match your educational goals before applying.  As you look ahead to college, there are many schools in North Carolina with a wide range of programs and costs. 
Read on to learn which options could be the best choice for you!  Here's an overview of the types of institutions in North Carolina, and there's even more detail available on each school on the College Foundation of North Carolina (CFNC) website. 
Community colleges 
North Carolina boasts 58 community colleges with campuses near every county throughout the state.  Some examples from mountains to coast are Southeastern Community College, Wake Technical Community College, and Cape Fear Community College.  Community Colleges are public and receive funding primarily from state or local taxes, with some money from tuition and endowments.  Community colleges are commuters, not residential campuses, which means that students travel to and from class each day instead of living directly on the campus. Tuition is considerably lower than four-year public or private colleges and universities. 
Community colleges offer three types of programs: certificates, diplomas, and associate's degrees.  Certificates and diplomas demonstrate you have developed a set of skills for a specific occupation.  The length of time required to earn either varies by occupation, ranging from six months to two years.  Examples of skills you could develop include auto mechanics, welding, cosmetology, web development, medical technology, practical nursing (LPN), and electrical maintenance.  With successful completion, you can get a license in your chosen field, enabling you to work in North Carolina. 
Community colleges also offer two-year associate's degrees to prepare you for a career or transfer to a four-year college or university. With an associate's degree, you could become a dental technician, teacher's assistant, or electromechanical technologist, for example.  Or you may choose to earn an associate's degree and then transfer to a four-year institution to finish up.  A number of students decide to earn their two-year associate's degree in a community college's college transfer program and then go to a four-year college or university for a bachelor's degree since this approach can be cost saving. 
For an in-depth look at North Carolina's community colleges, use College Search on CFNC.org. 
Four-year colleges and universities 
North Carolina has 16 public universities that are part of the University of North Carolina.  These universities receive funding from tuition and endowments, but a large portion of their funding comes from State tax dollars, reducing the cost of tuition and fees at a public university. State residents also receive a lower tuition rate than out-of-state students at these schools.  Some examples of the public four-year institutions in our state are N.C. State, East Carolina, N.C. A&T, and UNC Pembroke. 
Since the public universities are part of a state-wide system, transfers between them can be easier. Public colleges and universities generally have larger enrollments than private colleges and universities. 
There are 36 private (or independent), non-profit colleges and universities in North Carolina. Bennett, Campbell, Duke, Elon, and Meredith are just a few examples.  Whether students attending a private institution in North Carolina are in-state or out-of-state residents, they pay the same tuition.  Tuition and fees are higher at private colleges and universities than at public ones; however, scholarships, grants, and work-study opportunities may make the overall cost affordable. Private institutions tend to be smaller than public ones, with the average enrollment at private schools less than 2,000 students. 
Both public and private four-year colleges and universities offer undergraduate degrees, called bachelor's degrees.  The most commonly earned are the bachelor of arts (BA) and bachelor of science (BS) and require taking general education courses, courses in a major, and electives.  You'll find many choices of majors, such as history, engineering, mathematics, English, computer science, art, and business.  A four-year degree is often required for careers such as teaching, technology, engineering, and licensed nursing. 
Advanced degrees at four-year institutions 
After completing a four-year degree, some students choose to go on for an advanced degree in a specialized field.  Earning a master's degree can take two to three years of full-time study and include writing a thesis or passing comprehensive exams.  School counselors, physical therapists, and social workers are examples of those who earn master's degrees. 
Some college graduates go on for doctoral or professional degrees.  A doctoral degree (Ph.D.) is the highest educational degree you can earn and indicates expertise in a specialized field.  Candidates for this degree often spend 3-5 years completing courses and research and writing a dissertation, sometimes after already having earned a master's degree. 
Professional degrees are advanced degrees in fields such as dentistry, ministry, law, medicine, pharmacy, and veterinary medicine.  This degree can be earned after completing a bachelor's degree. The length of time study is required varies by profession. 
While both public and private colleges and universities offer a range of majors and degree programs, offerings at a private school may not be as extensive as those offered at a public one.  However, with all the choices in North Carolina, you'll probably find one or more public and private institutions that specialize in your desired field of study. 
To explore North Carolina's four-year public and private colleges and universities, take a look using College Search on CFNC. 
By the way, all of the North Carolina colleges and universities described above (and listed on the CFNC.org website) are non-profit.  What's the difference between a non-profit and a for-profit college or university? 
Both confer degrees, but non-profits put the money they earn back into their school to offer a learning environment that serves students' interests and helps them complete their degrees and prepare for a career.  For-profit colleges are run by companies in order to earn money for their owners and shareholders; generally, they do not spend as much on what directly benefits students.  If you're considering both non-profit and for-profit colleges and universities, do your homework.  Both types offer online courses, but not all offer a campus setting or personal attention. Check graduation rates, career results, accreditation, academic standing, and cost.  Make sure your time and money will be well spent on your education. 
Need help deciding on the college or university that is best for you? Consider these questions while you are doing your research or give us a toll-free call at 866.866.CFNC.
Go Back to News