College Savings Month Giveaway!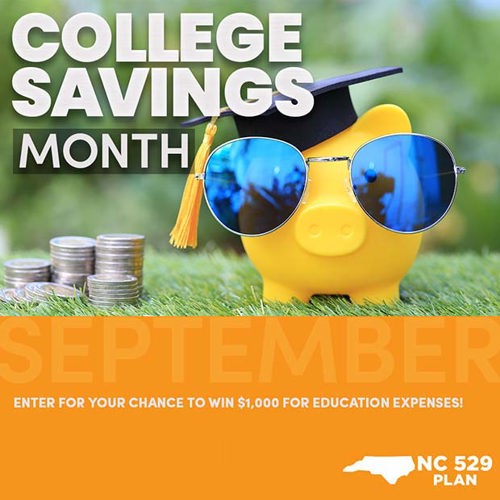 Participants Can Earn Multiple Chances to Win During the Month of September!
The 2021 "College Savings Month Giveaway" drawing is sponsored by College Foundation, Inc. (CFI), a North Carolina nonprofit, and the NC 529 Plan, North Carolina's education savings plan.
How the giveaway works:
Event runs from September 1, 2021 until September 30, 2021.
One winner will be randomly chosen to receive a $1,000 contribution to their NC 529 Account.
Funds can be used for eligible education expenses, including K–12 tuition, college expenses, student loan payments, and more!
Drawing is open to all current and new NC 529 Account holders.
To enter the contest, Participants must register.
Participants can earn additional chances to win the $1,000 grand prize, simply by making contributions to their Account:
2 entries – Set up a new recurring contribution by Automatic Draft (ACH) or Payroll Deduction.
2 entries – Increase a current contribution by at least $25.00 per Account.
2 entries – Make a first contribution to a new Account.
1 entry – Make an additional contribution to an Account, including gifts from family and friends! Contributions start at just $25.
Recurring contributions are the key! They help you toward your college savings goals and increase your chances of winning $1,000!