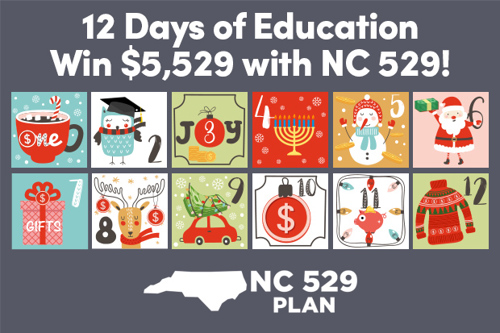 Participants Can Earn Multiple Chances to Win During the Months of December and January!
The 12 Days of Education: Win $5,529 with NC 529 Giveaway drawing is sponsored by College Foundation, Inc. (CFI), a North Carolina nonprofit, and the NC 529 Plan, North Carolina's education savings plan.
Now you'll have even more chances to win, thanks to our new Gifting app provided through collaboration with Backer.com!
How the giveaway works:
Event runs from December 1, 2022 until January 31, 2023.
One winner will be randomly chosen to receive a $5,529 contribution to their NC 529 Account.
Funds can be used for eligible education expenses, including K–12 tuition, college expenses, student loan payments, and more!
Drawing is open to all current and new NC 529 Account holders.
To enter the contest, Participants must register.
Participants can earn additional chances to win the $5,529 grand prize, simply by making contributions to their Account:
2 entries – For activating your new Gifting link from your NC 529 account
2 entries – For setting up a new recurring contribution by Automatic Draft (ACH) or Payroll Deduction.
2 entries – For increasing a current contribution by at least $25.00 per Account.
2 entries – For the first contribution made to a new NC 529 Account.
1 entry – For each contribution made to an NC 529 Account
Sharing your unique Gifting link (via Backer) and inviting friends and family to contribute will increase your chances of winning! 
More people contributing to your 529 Account helps you crowdfund your savings and increase your chances of winning $5,529!