16 Tips to Save Money in College

No one needs to tell a college student (or their parents) how expensive college has become. Finding the money to pay for the basics can be a struggle. We're talking tuition, books, and room and board. However, you know it's going to be worth it because experts say that college graduates can earn more than 80 percent more than high school grads during their careers.
Earning a college diploma can help you prepare for a successful career. Between now and then, it could be helpful to learn a few ways to stretch your hard-earned dollars. Let's get started with some creative tips to save money in college by cutting expenses and paying attention to your spending habits.
1. Make a Monthly Budget
Creating a budget is a smart way to see how much money you have and what you're spending it on every month. It's also a good way to prioritize funds for things that are important to you. For example, you may enjoy running and want to participate in local running competitions. You will need to set aside the money to pay entrance fees for races and buy quality running shoes. That will mean prioritizing a hobby that's important to you over other expenses, such as going out to eat in restaurants.
Once you have a budget, it's easy to track expenses to make sure you have enough to pay for the things you need, and (hopefully) have something left over to pay for fun extras you'll enjoy.
2. Take Advantage of the Dining Hall
If you're living in a college residence hall, you're likely paying for a school meal plan. That means most or all of your meals are already paid for. Don't waste that money by eating at local fast-food restaurants. It's like paying for one meal - TWICE!
At most schools, you can eat at any dining hall on campus. Find out which halls are near your classes and plan mealtimes accordingly. Make plans to meet up with friends on Taco Tuesday, or when a specific dining hall has ice cream sundaes for dessert.
3. Learn How to Barter
Are you having trouble in chemistry class and want to hire a tutor? Instead of paying someone for their time, why not ask to barter for their chemistry tutoring services? Maybe your academic strengths lie in English literature. Offer to help the tutor with their next English term paper in exchange for some academic help to get you through chemistry right now.
4. Get a Coffee Maker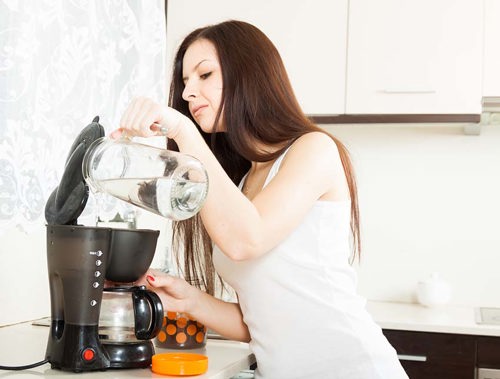 The average American spends between $1 and $3 a day on coffee. Financial experts call this spending habit the "latte factor." It's the money we spend visiting coffee shops instead of making our morning cups of joe at home.
Brewing coffee at home costs pennies a cup, compared to several dollars a cup at some specialty coffee shops. You don't have to deprive yourself just because a barista isn't making your coffee. Buy mocha or vanilla syrup to have at home and add some pizazz to your morning coffee. You'll save money and you don't even have to get out of your pajamas!
5. Pamper Yourself at Home
Thanks to the internet, you can learn at-home pampering skills to keep you looking good for a lot less than a visit to a salon. Instead of paying $30 or $40 for a manicure, research tips for a professional-looking manicure or pedicure at home. Comb through the fashion blogs for other at-home beauty treatments such as self-tanning, hair treatments, and even waxing.
6. Apply for Scholarships
A great way to save money on college tuition is to apply for scholarships. The process can seem intimidating, but there are many different scholarships you could qualify for. Taking the time to research which ones are right for you and filling out the applications can result in hundreds or even thousands of dollars in scholarships!
7. Learn to Sew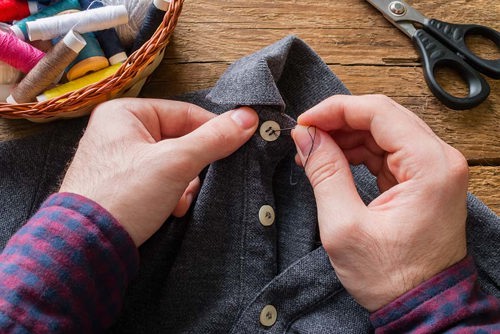 You don't need to start making your own clothes from a pattern, but learning to replace a button, tack a hem, or repair a small hole in the seam of a shirt will keep your clothing budget in check.
8. Learn to Cook
If you're no longer living in a residence hall and taking advantage of the delicious meal plan, learn to whip up your own meals. Check out free recipes online, or call Mom or Grandma and ask them to share secret family recipes for pasta sauce and chicken enchiladas. Make a double batch and freeze the leftovers in individual portions for delicious home-cooked meals in a snap!
9. Avoid Late-Night Food Runs
Ordering a pizza at 2 a.m. while hanging out with your friends or studying for that big calculus exam may seem like a good idea. It's not. Besides extra calories you don't need, it's also the money you (probably) don't have.
10. Pay Student Loan Interest While in School
Most students have some amount of student loans. The good news is that you don't have to start paying them back until after you leave school. However, interest does begin to accrue on the date the loans are disbursed. For federally subsidized loans, the government pays the interest while you are in school. For unsubsidized or private loans, you are responsible for the interest.
You can choose to pay off student loan interest while in school, or it can be added to the original loan amount and continue to increase until you enter the loan repayment period. Paying the interest while in school can save you hundreds or thousands of dollars down the road.
11. Host Movie Night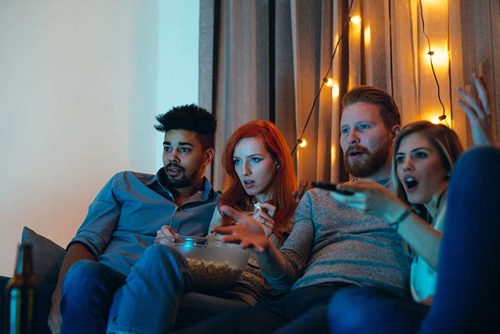 Hanging out with your friends is important, but you don't always have to spend money at a restaurant or club to have fun. Invite your friends over for movie night. Ask each person to bring snacks to share. You rent the movie, and everyone has a good time!
12. Utilize Campus Fitness Centers
Most colleges and universities have fitness centers on campus. Fees for the facilities are probably included on your tuition bill every semester. So, don't join a private gym just because it's closer to your apartment. Get fit and save money at the same time.
13. Give Your Time as a Gift
Everyone understands that struggling college students have little extra cash to spend on gifts. That doesn't mean you don't want to give a gift when someone close to you is celebrating a birthday or special holiday.
Let a loved one know you care by giving them a gift of your time. Create coupons for dog walking, babysitting, or car washes. They'll love that you made the effort to remember their special day.
14. Use the Library
Movies, books, e-books, and music are all available for free at your school library. Spend a couple of hours leafing through books until you find something that interests you. Don't have time to peruse the bookshelves? Most libraries have smartphone apps to reserve materials and download content.
Taking advantage of free library services doesn't mean taking a pass on the latest bestseller. Put your name on the library waitlist, and you'll be notified when it's your turn.
15. Sign Up for Customer Rewards
Preferred customer cards are available at most grocery stores. Watch for sales and stock up on commonly used items, such as cereal. For example, the store may have a BOGO deal on toilet paper. Stock up and count the savings. However, don't get fooled into buying things you really won't use or eat. No one ever finished the variety pack of granola bars, because who likes raisins?
16. Enjoy Free Events
Clubs, intramural sports, and free concerts are available on most college campuses. Check out the calendar of events at your school and join in the free fun!
Combining just a few of these tips to save money in college could add up to some real savings. Along the way, you could also develop strong financial skills that will make a big difference down the road.
Go Back to News