Local Family Dreams Big for Higher Education with 529 Day Contest Win!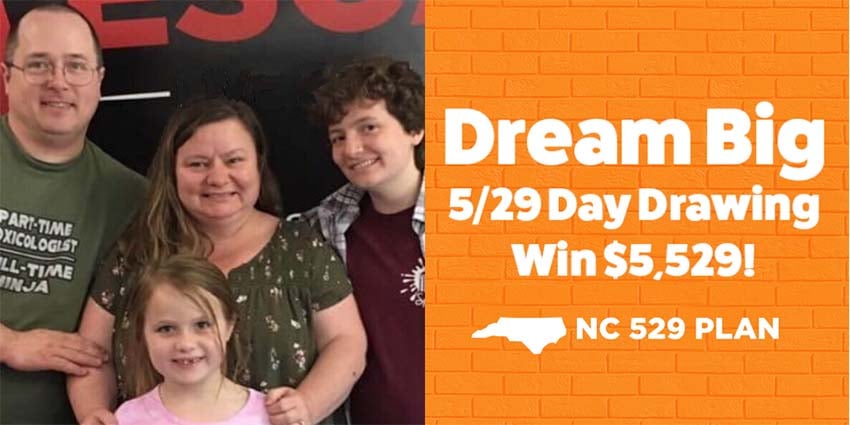 Congratulations to Andy Ewens, Ph.D., of Cary, North Carolina! Andy is the winner of the "Dream Big 5/29 Day Drawing to Win $5,529" in celebration of National 529 College Savings Plan Day. Andy's name was selected at random from a long list of entries. The contest, sponsored by College Foundation, Inc. (CFI), was open throughout the month of May with the goal of raising awareness about college savings accounts and providing a deserving family with an extra boost to their own college savings.
Andy, a board-certified toxicologist, learned of the contest through an email from NC 529. He says winning came as a complete surprise and could not believe his luck at first.
"I never win anything," he laughs. "When I got the first notice, I thought it was a scam. I was waiting for them to ask me for my social security or bank account number."
He says that higher education has long held special importance for their family. Not only are Andy and his wife, Samantha, first-generation college graduates, both also hold advanced degrees.
"My wife has a master's, and I have a doctorate. We're both big into college," he says. "For the first 30 years of my life, I spent 25 of them in school. I am definitely big into school."
Winnings Arrive Just in Time for College
The family's oldest child, Adrian, will become a high school senior in the fall of 2020. They are already planning for college. Adrian is currently interested in future careers in either costume design for the theater or linguistics. Andy says the thought of their eldest attending school brings mixed emotions for the family.
"We're excited but also sad that he's going to be moving away somewhere, but we've always looked at college as being very important," he says. "In fact, we made the decision that we are both going to try not to burden our kids with student loans. We're trying very hard to pay for college all ourselves."
He says the $5,529 in winnings will make a huge impact in helping pay for his children's college education.
"It's going to make it much easier. That money is probably going to get him through a big chunk of college all by itself," Andy says. "Then we plan to keep contributing while he's still in college so that it keeps going and hopefully pays for most of his education."
Saving for College Starts Early
The Ewens family first learned about the NC 529 Plan through Samantha's workplace, during an employee benefits seminar. He says the automatic payroll deductions make budgeting college savings simple and easy.
"We do it automatically, so it all happens in the background," he explains. "Once a year, I'll take a peek to see how much is in there and adjust our payments, but it's definitely budgeted as an essential."
The family started 529 Plans for both children when they were at a young age. He says that even though saving for college can be difficult, every little bit helps later down the line.
"It's something to think about when your kids are really young," he says. "It may be hard to put away some money, but starting with just a little bit while you can, and making it automatic, so you don't think about it, helps."
The family is grateful for the windfall and looks forward to using it to help with the cost of higher education.
"That money is definitely all going to good use," says Andy. "I'm thankful that we were chosen for this contest, and I want to say thank you to the NC 529 program."
Congratulations to the Ewens family, and thank you to all the contestants on behalf of CFI. Families don't need to wait for the next contest to open an NC 529 Account. Your family can open an NC 529 Account today with as little as $25. Start putting away money for college now so that your savings grow for the future.
Go Back to News