Easy & Simple Scholarships You Shouldn't Overlook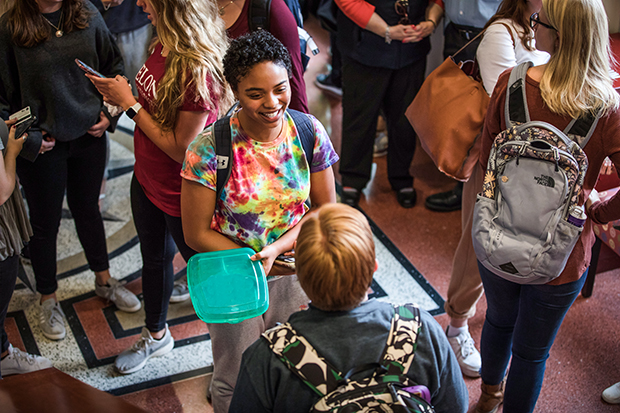 Once you're accepted into college, one of the most pressing issues is how you're going to pay for it. Still, after filling out countless applications, the last thing you want to do is fill out even more complicated forms and write long essays for scholarships.
While many require you to do exactly that, some scholarships don't require much effort to apply. Just remember that you aren't the only one taking this approach, so your competition will likely be plentiful for these scholarships.  Here are a few easy scholarships that you definitely don't want to miss.
Easy Scholarships Requiring 250 Words or Less
While you can't always get something for nothing, you can come pretty close. There are plenty of sizable monetary scholarships out there if you're willing to write a very short essay.
Unigo's "Make Me Laugh" Scholarship
In 250 words or less, applicants are tasked to "describe an incident in their life, funny or embarrassing (fact or fiction), and make the selection team laugh!" If you can make them laugh, a $1,500 scholarship could be yours.
After filling out a short form, you can win $1,000 by writing a 150-word essay answering the question "What is your primary goal for going to school?"
The Courage to Grow Scholarship
In 250 words or less, all you have to do is explain why you have "the courage to grow," and why you feel you deserve the scholarship. $500 is awarded monthly.
The "10 Words or Less" Scholarship
All you have to do is like a Facebook page and answer in ten words or less why you deserve a $500 scholarship. It doesn't get much easier than that!
Need a Writing Break? Try These Easy Scholarships!
You may be tired of writing from all of your college applications. In case you're suffering from writer's block or visual creativity is more your thing, we have some suggestions. These easy scholarships require no additional writing.
By using any artistic medium, you can win up to $30,000 in scholarship money by entering this annual contest.
Easy Scholarships from DoSomething.org
There are a variety of scholarships from DoSomething.org that require no writing, just three easy steps: 1) Sign up for a campaign. 2) Complete the campaign (some take 5 minutes or less!) and 3) Upload a photo to show you completed the campaign. Winners are chosen at random and scholarship prize money varies.
Create-A-Greeting Card Scholarship
Are you artistically inclined? You can enter The Gallery Collection's "Create-A-Greeting Card" scholarship for your chance to win a $10,000 scholarship.
The Duck "Stuck at Prom" Scholarship
Feeling crafty? Here's a scholarship that really "sticks" out. You could win a $10,000 scholarship by creating a prom dress or tuxedo out of Duck-brand duct or craft tape.
North Carolina Scholarships
Did you know that as a North Carolinian, you have access to apply for scholarships that are just for NC residents? These are just a few of the easy scholarships available to students from the Old North State.
North Carolina Restaurant and Lodging Association (NCRLA) Scholarships
Are you a budding "Top Chef?" There are a variety of scholarships offered by the NCRLA, ranging in amount from $750-$4000 for NC students who are affiliated with the restaurant or hospitality industry.
Golden LEAF Scholarship Programs
Students from 80 of North Carolina's 100 Counties are eligible to apply for this scholarship, whose winner will receive $3,000 a year annually, for a total of $12,000 over their four years.
This is by no means an exhaustive list of scholarships, but it's important to know that if you need money for college, there are plenty of easy scholarship opportunities available. As with anything, we strongly encourage you to review scholarship requirements carefully and make sure wherever you're applying is legitimate. Your high school counselor should be able to answer most of your scholarship questions. If you need help finding scholarships, be sure to check out our scholarship search tool.
Good luck with your short essays, greeting cards, and random chances to win!
Go Back to News