College Dorm Life: What to Expect and How to Make Friends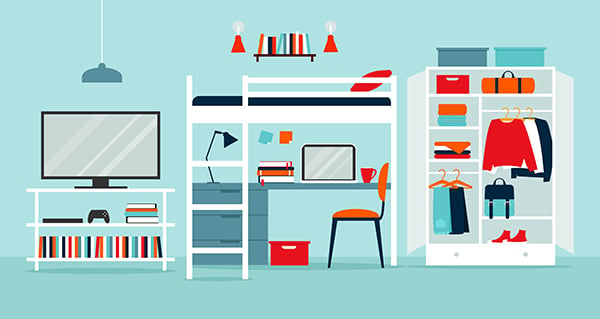 You have made it! You celebrated your high school graduation with your friends and classmates, and now it's time to prepare to move on to college. Some of those friends might be coming with you, or you might be going off on your own. Either way, your first year of college is life-changing. From classes to dorm life, there will be many new experiences.
Finding a Roommate
Most non-commuter colleges and universities require first-year students to live on campus, which means likely living with a roommate. Luckily, if you know friends who are going to the same school, you can request to room with them. If not, you will receive a random roommate, which is a great way to make a new friend right away!
The process to get a roommate will be different from school to school, but it usually starts with students filling out a questionnaire about each person's likes and dislikes. This helps the housing folks to understand your lifestyle so they can pair you with a compatible roommate. It's also common to find roommates on social media through a roommate page for your school.
Once you're officially matched with a roommate you'll want to connect with them before move-in day to make sure you both are on the same page. You can also split up the packing list to save on space in your dorm.
Let's Eat!
Living on campus means you'll also have a dining plan. These plans can range from just one meal a day in the dining hall to unlimited meals and extra dining dollars you can use at different places on campus. U.S. News & World Report reports that in 2022 the cost of meal plans usually ranged from $3,000 to $5,500 for the whole school year. The most expensive one was $9,000.
Parking
If you plan to bring your car to campus, you'll need to buy a parking pass. Registration for parking usually takes place during the summer, so check your school's website for details.
Parking priority usually goes to seniors and grad students, so you may need to be flexible about where you park your car. Some parking lots can be far from campus and require you to take a bus back to your dorm. Once you get to campus, pay close attention to which lots you can park in because parking tickets can add up quickly.
Dorm Life: What to Bring
Transitioning into dorm life can be difficult because you can't bring all the comforts of home into a small dorm room. Most dorm rooms come with a bed fitted with a twin extra-long mattress, dresser, closet or wardrobe, desk, and a chair. You'll need to supply the rest. Below is a recommended list of items to bring to college:
Mattress protector and topper
Two sets of sheets
Comforter or duvet cover
Pillows and pillowcases
Desk lamp
Area rug
School supplies

Laptop
Headphones
Notebooks
Pens and Pencils
Backpack

Hangers
Shower caddy
Bath towels
Cleaning supplies
Laundry hamper and detergent
Full-length mirror
Iron and ironing board
Mini fridge
Microwave
Coffee maker
Can opener
Fan
TV
Power strips
First-aid kit
Dorm Life: What Not to Bring
Dorm rooms are about 100 to 250 square feet of shared space for your roommate and you, so you cannot bring everything you own. The closet space is not huge. Plan to pack only your in-season clothes. Then, on breaks or a weekend trip home, you can exchange them for the other season.
While you might want to make your dorm cozy with candles, most residence halls prohibit open flames. Likewise, other items like heaters, crockpots, hot plates, and toaster ovens are not allowed. Most schools list prohibited items on their housing website.
Making Friends in Dorm Life
For some, moving off to college means living with your best friend. For others, it means moving to a place and knowing absolutely no one. The benefit of dorm life is you have ample opportunities to make friends on the first day!
If you don't know your roommate, reach out to them ahead of time. Try to meet up or set up a FaceTime call, allowing you to get to know each other. Once the semester gets underway, attend social events, and take part in kickoff activities. Bring your roommate along so you have a familiar face.
Try to leave your door open when hanging out in your room. It might seem invasive, but doing so will encourage people to stop in and say hi, have engaging conversations, and feel welcomed. Finally, expand your horizons by joining clubs. This could be an intramural sport or a club that goes along with your major.
Find the Right College for You
Are you still looking for the right college for you? Use the CFNC College Search to compare schools, including student housing options. And when you're ready to apply to schools, CFNC can help with that too! CFNC has all the tools you need to plan your future.
Go Back to News