Creating a Personal Statement for College that Stands Out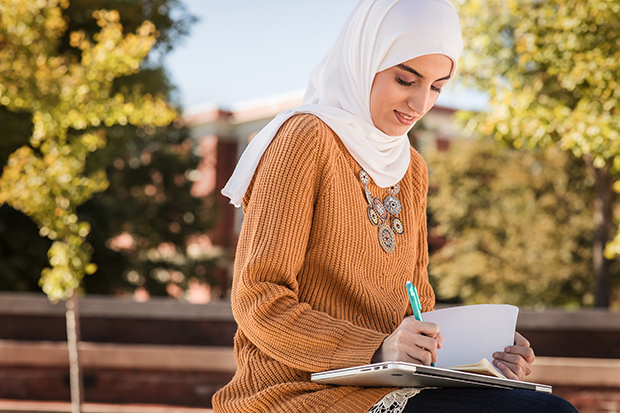 One of the most daunting tasks of any college application is the personal statement section. For many people, talking about themselves isn't an easy task. You don't want to be too full of yourself or exaggerate your accomplishments. However, you still want to stand out to the admissions office at your dream school.
Here are a few tips to create a personal statement for college that will separate you from the rest.
Be Yourself; Use Your Own Voice
No two personal statements are alike. Admissions officers view the personal statement as an opportunity to get a deeper view of a student's unique personality. It is important to let that personality shine when writing your statement.
You know what is important to you, whether it's your family, your upbringing, religion, or an event that shaped who you are as a person. Chances are, if it's interesting to you, it will be interesting to the person reading your application.
Your personal statement is a reflection of yourself. That's why it's important to use your own voice to convey your story. The college is going to accept you because of the total package. They don't care that you used 17 of the 30 words that appear in September of your "SAT Word of the Month" calendar. It is important to write formally, but maintain your own voice.
Originality
Odds are, other students applying to the same college have taken strenuous course loads during their four years in high school, had solid test scores, and participated in extracurricular activities. By focusing your personal statement on a unique and interesting topic, you are more likely to set yourself apart from the rest of the pack.
Originality isn't limited to your topic, but your personal statement should be focused on something that can't be found elsewhere in your application. As an admissions officer reads your essay and paints a mental picture of you, the personal statement should add more detail to the total finished picture.
Reflect, Not Recount
There is a reason you're writing about the topic you're writing about in your personal statement. It's because you're passionate enough about the topic that you can express how it made or makes you feel.
A personal statement is not just writing a recap of something that happened to you. You should be reflecting on why that event or detail has made you as passionate as you are about it. Focus on the "how" and "why" you've chosen your personal statement topic, rather than the "who," "what," "where" and "when." These details can certainly be in your personal statement, they just shouldn't be the focus.
Don't Be Afraid of Multiple Drafts
It's important to have someone close to you read over your college personal statement. Having a second set of eyes is never a bad thing. If this individual actually knows you, they can likely help eliminate unnecessary details or add further clarity to your essay. A second read-through can also fix any proofreading issues that might arise. If there are edits to be made, make sure that the changes are still in "your" voice.
It's also important to craft more than one personal statement because not all college applications are alike. You don't need to go "all in" on one topic. There is a good chance that the topic might not "exactly" apply to another personal statement question. Allow yourself time for multiple drafts and read-throughs. The perfect personal statement often isn't crafted in one sitting.
These are just a few tips to help with your personal statement for college. If you can be original as you reflect on something in your own special way, it will go a long way for the college admissions representatives who are reading your essay. If you need extra help applying to school, you can create your CFNC account and find all the help you need to plan, apply, and pay for school.
Go Back to News