How to Write a College Application Resume that Stands Out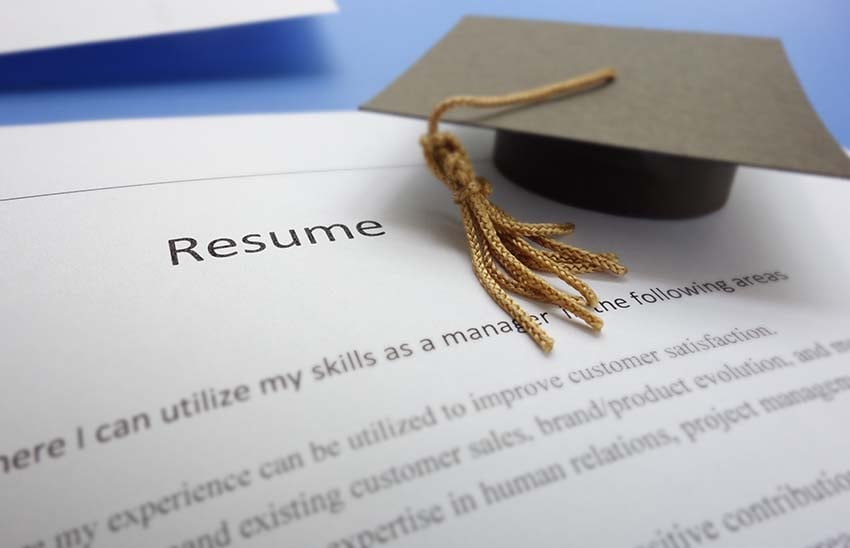 After you earn your future degree and hit the ground running in the "real world," a great resume will be your ticket to a successful career — and you should start learning resume-building skills right now! Many colleges require a college application resume. Here's how to make your college application resume do its job and get you accepted!
What is a College Application Resume?
When you think of a traditional resume, you probably think of a document that lists career accomplishments, job titles and descriptions, and job-related experience. But rather than help you land your dream job, a college application resume is used to help land you acceptance into your dream school.
A college application resume (or college admissions resume) is a document that lists academic skills, experience, and achievements. It provides a snapshot of who you are as a student. A college application resume also needs to show who you are as an individual, so it should include extracurricular activities, skills, and hobbies.
How to Use a College Application Resume
Many colleges and universities now require applicants to include a college admissions resume with their application. It is not the same as a college admissions essay, which is either a personal statement or a written discourse in response to a question on the application. Do not include a college admissions resume in your application unless it is requested, as this may demonstrate an inability to follow instructions.
Give your college application resume to anyone who is writing you a recommendation or serving as a reference. This will help them learn more about you, and they can refer to it when discussing your achievements.
College Application Resume vs. Essay
Your resume should contain more, yet concise, details about you than your essay. Your personal statement or essay responses offer insight into your writing style, thoughts, and unique character, whereas your resume gives direct knowledge of your achievements, skills, and experience.
Many admissions essay tips also apply to writing your admissions resume. For example, it's a great idea to run both your essay and your resume by a trusted adult (like a parent, teacher, or counselor) who can revise and edit your work.
What to Include in Your College Admissions Resume
The bulk of your resume should focus on academics, but you also want to include extracurricular activities, skills, and employment history. Format each section in chronological order, but make sure academics are high in the document. Include the following elements in this order:
Heading
Your heading at the top of the document should include your name and contact information (address, email, and phone number). Be sure you are using an email address that looks professional (i.e. [email protected]).
Academic Profile
Here is where you should mention your high school, your highest SAT/ACT score (if you took one or both), your GPA, and your class rank or percentile. You only need to mention your class rank or percentile if you believe it will strengthen your application.
Academic Achievements
In this section, list any academic awards, achievements, or special honors you received. Are you the valedictorian of your class? Are you a member of the National Honor Society? Mention those achievements here.
Coursework
Highlight advanced coursework, such as Advanced Placement (AP) or International Baccalaureate (IB) courses. Also include specialized programs or workshops that you completed.
Academic and Extracurricular Activities
Include school-affiliated clubs and athletics here, as well as extracurricular (out-of-school) groups or activities. You may list community service here or list volunteer work in a separate section.
Employment History
It's important to share your work experience on your college admissions resume because it demonstrates your ability to work hard and meet goals. Include part-time jobs, internships, summer programs, and job-shadowing programs.
Skills and Hobbies
This is a section where you can really let your personality shine. Consider including foreign language fluency, a hobby like photography, or a skill like HTML expertise. Focus on skills and hobbies that may be related to your intended degree program.
Do you frequently post videos on TikTok? Social media proficiency is a great skill, particularly if you want to study communications or marketing. Be sure to set all social media sites to private though, as you never which colleges or jobs review these for admissions/hiring decisions. Do you like to tinker with cars? Mention that you are an automotive enthusiast, particularly if you want to study engineering or something similar.
Tips for Writing Your College Application Resume
Writing your college admissions resume doesn't have to be difficult. It is one of the more straightforward aspects of your college application. Keep the following tips in mind.
Customize Your Resume
Have a general resume ready, but research your schools and customize your resume for each application. Include skills or activities that may relate to a specific program. Additionally, each school may ask for unique information.
Keep It Concise
Your college application resume should not be longer than one page. If you have to narrow down your information, include the most important achievements and experiences on your resume. Keep in mind your information will likely be included elsewhere in your application (for example, your transcript will list all your coursework).
Be Yourself
Don't embellish your resume. Anyone who reads your resume won't hesitate to do some research and verify your information.
Proofread
Make sure there are no grammatical errors or misspelled words. Ask a parent, teacher, or advisor to review your resume.
Pay Attention to Formatting
Make your resume easy to read and use bullets so it is easy to scan. Keep your font and style consistent.
Find Templates Online
It's helpful to work off a template or compare your resume with online examples. You can find a template and an example college application resume on Indeed.com. The Princeton Review and The Balance Careers also have helpful tips.
Your College Application Resume Represents You
Your college application resume demonstrates who you are as a student and as an individual. A great college application resume can help you stand out from other applicants and turn your dream school into a reality!
When you are ready to apply to college, CFNC.org has all the resources you need to make the application process as smooth as possible. Get started now!
Go Back to News