College Application Deadlines for the 2023-2024 School Year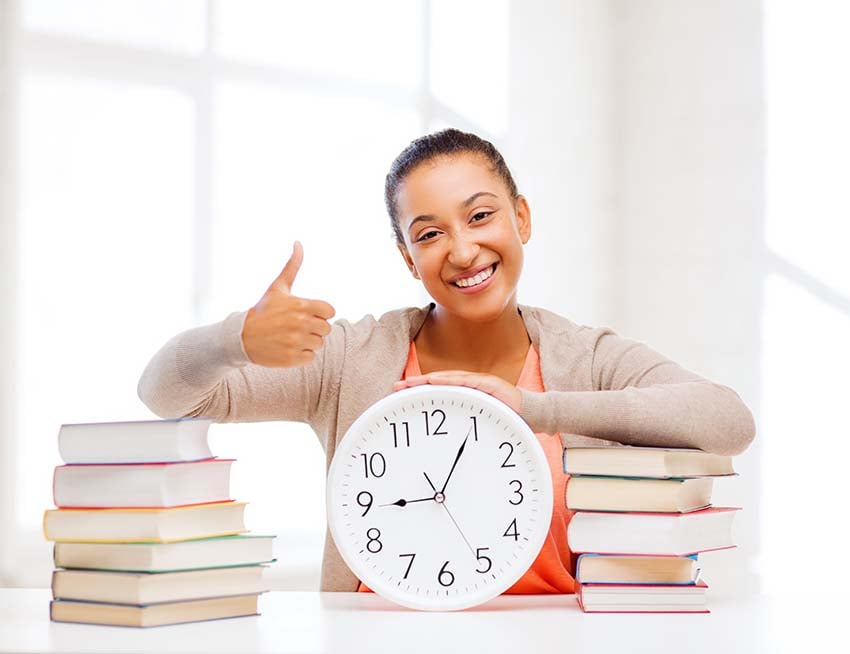 As high school students return to campus in the fall, college-bound seniors will need to pay particularly close attention to college application deadlines for the schools they hope to attend after high school graduation.
It's never too early to research the college application process and the materials you need to prepare. Here is a general overview of college application deadlines for the 2023–2024 school year with resources to help you find answers to questions about individual schools.
When is the College Application Deadline for 2023-2024?
Keep in mind that specific due dates will vary among schools, so families should always verify deadlines for individual schools using CFNC's guide. However, understanding the different enrollment options will help students get a general idea of their personal timeline for submitting college applications.
There are four types of enrollment options schools offer: early action, early decision, regular decision, and rolling admission. Let's start with regular decision, the most common type of application.
Regular Application Deadline
As the name of this admissions option suggests, most students submit their applications to college for consideration in the "regular decision" category of applicants. It's the classic college application, offering students more time to complete the application process than early action (EA) and early decision (ED) applicants.
Deadlines for regular decision applicants vary among schools but typically fall in January or February of a student's senior year. Regular decision applications give students the freedom to apply to as many colleges as they want, compare acceptances and financial aid offers, and decide which school best meets their needs and goals.
Early Decision Deadline
As the name suggests, early decision (ED) applicants submit their college applications earlier than regular decision applicants, with deadlines for fall enrollment typically falling before November 15 of senior year.
The key thing to understand about this type of application is that it is binding. If a student submits an ED application and the school accepts the student, the student is obligated to attend the school without considering or waiting to hear back from other colleges. Only students who are positively sure of where they want to go to school should apply via ED.
Particularly if financial aid will play a significant role in your college decision, ED may not be the right option. Regular decision and early action applications will allow you to compare financial aid and choose a school that offers the most aid.
Early Action Deadline
Early action (EA) applications are also typically due in the first two weeks of November. Unlike ED applications, EA applications are non-binding. Like the ED applications, you will likely hear back from the school before January 1 about whether you've been accepted.
Students who are eager to get their applications in early can use this method and still have time to compare their options or wait to hear from other schools. Early action applications are just like regular decision applications in that you won't have to tell a college whether you plan to attend until the spring.
Rolling Admission Deadline
Applications for rolling admissions are most common for community colleges and some independent or private schools. There's essentially no set deadline for applying. Schools accept applications until they no longer have space available in classes.

As the saying goes, "The early bird gets the worm." Admissions experts recommend submitting applications as soon as possible to schools on a rolling admissions timeline because you never know when a school or program will hit its cap and close the application portal for the semester you plan to start school. Institutional financial aid may also be on a first-come, first-serve basis.
Missed College Application Deadline? What to Do
Students who miss a college application deadline should not panic. If you are worried about late college applications, there are several options to help get back on the path toward achieving your dreams. It's never too late.
First, consider calling the school's admissions office and explaining the situation. Ask if you may be able to submit the application after the formal deadline.
If the school refuses to accept the late application, there are still several paths forward. Consider applying to a school with rolling admissions or a later application deadline. Students can also consider taking general education courses at a local community college for a semester or a year and later transfer to their university of choice.
Take a deep breath and consider the available options. Chances are, you will end up right where you were meant to be.
Need Help with the College Application Process?
CFNC's Application Hub will track your progress as you complete applications for individual schools and keep you informed of approaching deadlines and needed materials like letters of recommendation.
Count on CFNC to help you figure out how to apply to college and meet every deadline, from submitting the FAFSA and establishing North Carolina residency to completing college applications.
Go Back to News