Celebrate College Savings Day with the NC 529 Plan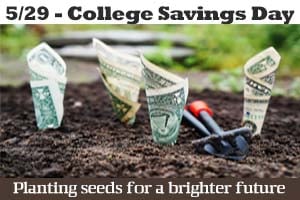 **Edit: This contest has ended. To stay up-to-date for future contests and drawings, please follow our newsletter!
We're going to celebrate College Savings Day (May 29) by giving away $1,529! Anyone with an existing NC 529 Account or who opens one is eligible to enter.  Don't miss out on a chance to add $1,529 to your college savings in the NC 529 Plan.
Just enter one time April 3 – midnight May 21, 2017, and the NC 529 Plan will automatically multiply your Drawing entry by the number (not the amount) of completed (received and processed) contributions you have made or will make between January 1, 2017 and midnight May 21, 2017.
A random drawing to determine the winner will be held May 22 and the winner to be announced on or after May 29, 2017.  It could be you! So, get the details today.
Go Back to News