Congratulations to the Winner of the NC 529 College Savings Month $1,000 Giveaway!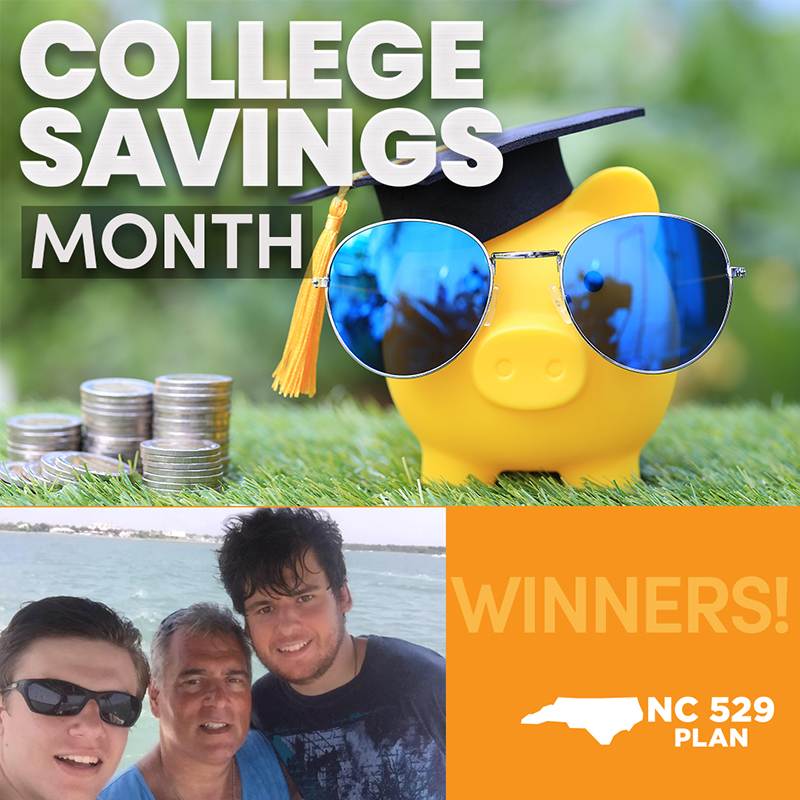 To celebrate National College Savings Month in September and encourage families to save for education, NC 529, North Carolina's National College Savings Program, gave away $1,000 to one lucky winner! Thank you to everyone who made saving for K–12 tuition and college expenses a priority and entered to win this exciting giveaway! The drawing closed on September 30, 2021, and a name was randomly drawn from the entrants.
And the Winner is…
The winner of the NC 529 College Savings Month Giveaway was the Drosdick family of Durham, North Carolina. They received a $1,000 contribution to their NC 529 Account!
Jesse Drosdick has been saving for his sons' educations with NC 529 since they were born. "When the boys were little, we could only afford to save 25 dollars a month, but I knew it was important to start saving for college right away," said Jesse. "I also got my parents involved, and they contributed an additional 25 dollars a month to each account. As my salary increased, I also increased my monthly contributions."
The prize money will come in handy because Jacob and James are both in college right now. Jacob already earned an associate degree from Durham Technical Community college and will graduate with his bachelor's degree from Campbell University in the spring of 2022. James attends Virginia Tech and is currently doing a study abroad program in Lugano, Switzerland. Jesse says they've been able to use NC 529 funds to pay for tutors, two-year and four-year college tuition, room and board, and study abroad expenses.
Jesse also appreciates the different investment options available with the NC 529 Plan. "I like that I can be more hands-on and direct the funds to the investments that I think will perform the best," said Jesse. "The website also has a lot of good resources, which is helpful."
Jesse encourages all parents to start saving for their children's education as soon as possible. "Even if you can only afford 25 dollars a month, start immediately," said Jesse. "Talk to grandparents and other family members because every little bit helps."
About National College Savings Month
National College Savings Month was established in 2003 by the U.S. Congress to raise awareness about the importance of saving for education. It's the perfect opportunity for parents to open an NC 529 Account and start investing in their child's education. It's also a good time for parents who already have a financial plan to review existing education accounts and commit to increasing their saving goals.
In the News: CFNC Regional Representative Takeila Barnes Hall Appears on WGHP-TV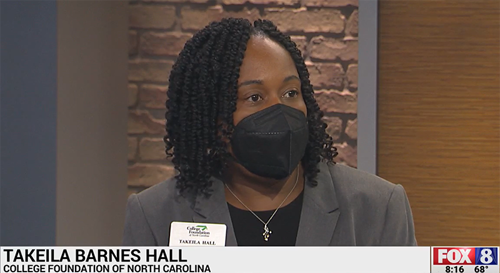 NC 529 is part of the College Foundation of North Carolina (CFNC) family. CFNC's goal is to help North Carolina families as they plan, apply, pay, and save for education. CFNC has a statewide team of regional representatives who crisscrossed the state, spreading the word about the giveaway and the amazing tax advantages of the NC 529 Plan.
CFNC and NC 529 Regional Representative Takeila Barnes Hall sat down with WGHP-TV to discuss the benefits of planning for the future with NC 529. While many parents start saving for K–12 tuition and college expenses when their children are born, she said it's never too late to start saving for education.
Click here to watch the full interview.
CFNC Regional Representative Amy Denton Appears on WITN-TV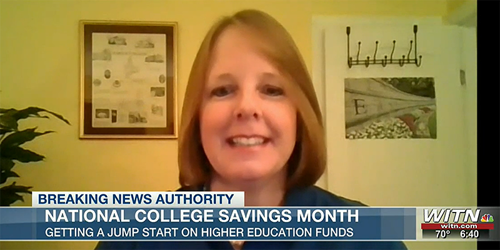 CFNC and NC 529 Regional Representative Amy Denton was featured on WITN-TV's Morning News to share helpful information about how the NC 529 Plan can help families prepare for K–12 education and college. She also shared 5 Smart Saving Tips for K–12 and College Expenses:
Open an account when a child is born – Family and friends can make contributions to welcome the new baby, as well as for birthdays and special holidays over the years.
Make saving a healthy habit – Auto-transfer money into education savings with scheduled monthly withdrawals from a bank account or employer payroll deduction.
Working teens can help save – When teens are old enough for a part-time job, they can deposit half of their paychecks into their college savings account and have the other half to spend for themselves.
Take Advanced Placement (AP) classes in high school – Students can earn free college credits before they step on campus! AP credits can add up and save parents money on college tuition.
Apply for scholarships – Use our free online resources to research and apply for as many scholarships as possible. Every little bit helps!
Click here to watch the full interview.
The NC 529 College Savings Month $1,000 Giveaway was proudly sponsored by College Foundation, Inc. (CFI), a North Carolina non-profit. NC 529 funds grow tax-free when the money is used to pay for qualified education expenses. These include K–12 and college tuition, room and board, trade school, apprenticeship programs, student loan payments, and more! To learn more about the NC 529 Plan or to open an account and start saving today with a $25 minimum contribution, visit www.cfnc.org/NC529.
Go Back to News