How to Reduce the Cost of College with the North Carolina Community College System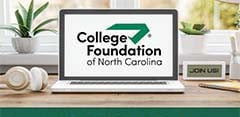 No matter your college and career goals, community college can help you achieve them.…and for a fraction of the cost! Join CFNC and NC Community College representatives from across the state to learn more about the incredible opportunities our local Community Colleges offer.
Come hear about the different degree programs, apprenticeships, financial aid and scholarships, campus life, and more. Co-presented with Blue Ridge Community College, Wake Tech Community College, Wayne Community College, and Cape Fear Community College.
April 15, 2021
6:00 pm - 7:30 pm
Eastern Time
Registration: https://cvent.me/34DvkD
Go Back to Events