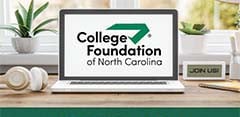 November 18, 2021
529 Rules: It's Time To Use The Funds You Saved!
You saved for college and need to withdraw funds — now what? Join NC 529 Representatives to learn about qualified vs. non-qualified withdrawals, as well as technical procedure instructions. You don't want to miss this helpful webinar on your NC 529 Plan!
January 27, 2022
8th Grade Kickoff to College
High school is just around the corner and college is not too far behind. Now is the time to learn about ways to help your student get career and college ready with CFNC!