April 20, 2023
¿Cómo pagar la universidad? Taller de Becas
Si vas a empezar tus estudios superiores o quieres saber qué opciones hay para ayudarte pagar la universidad. Lo invitamos a participar en este taller virtual proporcionado por CFNC en español.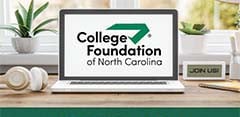 May 03, 2023
Virtual Career Fair for High School Juniors
It's time to get excited for senior year and the career that awaits you! CFNC will host a virtual career fair for students to learn more about a variety of careers and pathways, ranging from degrees and credentials earned at community colleges, to transfer options and four-year programs. Topics will include Healthcare, Engineering, Animal Sciences, Business Management, and more. Attend this informative panel of experts to learn more about potential career options and plan for 2023 NC Countdown for College.