August 03, 2023 - October 31, 2023
Countdown to College Training Schedule
August and September - Education Professionals: Choose from 10 sessions to help you prepare for a successful NC Countdown to College in October!
October 05, 2023
C2C Virtual Career Fair: Health & Animal Sciences
College Foundation of North Carolina (CFNC) and NC Countdown to College (C2C) will host a virtual career fair for students, families and educators to learn more about a variety of careers and pathways, ranging from degrees and credentials earned at community colleges, to transfer options and four-year programs. Don't miss this informative panel of experts to learn more about potential career options in health and animal sciences and get your questions answered!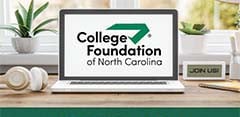 October 12, 2023
Oportunidades y recursos para cubrir los costos de la universidad
¿Su hijo o hija está planificando para el colegio o universidad y tiene preguntas sobre como cubrir los costos? En esta presentación hablaremos sobre los costos universitarios, los distintos programas de becas universitarias, becas totales y parciales, subsidios federales y estatales disponibles y más. También repasaremos los requisitos y documentos exigidos y se explicará acerca de la Solicitud Gratuita de Ayuda Federal para Estudiantes (FAFSA).