HBCU Students: Money – Get the Basics!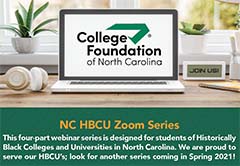 TUESDAY, NOVEMBER 3 @ 11:00 A.M.
CFNC wants to help YOU understand financial literacy basics!
CFNC Regional Representatives and credit union officials are offering this webinar to specifically assist students at HBCU campuses to understand the basics of money.
Topics include: basic terminology, creating a budget, saving and investing basics, bank accounts, and more.
REGISTER NOW

JOIN ZOOM MEETING

ZOOM INFORMATION:
Meeting ID: 957 8754 3910
Passcode: 612679
Find your local number

NC HBCU Zoom Series
This four-part webinar series is designed for students of Historically Black Colleges and Universities in North Carolina. We are proud to serve our HBCU's; look for another series coming in Spring 2021!
Go Back to Events