HBCU Students: Financial Education – Steps to Being Financially Fit After Graduation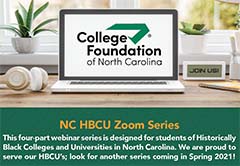 THURSDAY, NOVEMBER 12 @ 3:00 P.M.
Curious about becoming Financially Fit? Let us help you!
CFNC and the Latino Community Credit Union will offer a webinar designed for HBCU students on becoming financially fit.
Topics include: financial literacy terminology, creating a budget, banking basics, and more.
*Speakers can also share information in Spanish, as part of the presentation, as needed!

REGISTER NOW

JOIN ZOOM MEETING

ZOOM INFORMATION:
Meeting ID: 945 7776 2271
Password: 153431
Phone Number: +1 646-558-8656

NC HBCU Zoom Series
This four-part webinar series is designed for students of Historically Black Colleges and Universities in North Carolina. We are proud to serve our HBCU's; look for another series coming in Spring 2021!
Go Back to Events