Next Step Program Overview - Fall 2023
The Next Step 2023 program is now open through December for NC high school juniors and parents!  Just click on the Junior Next Step Form button on this page and you can:
Share your plans and needs. Whether you are thinking about an apprenticeship, military, work, community college, or four-year college, this is a great time to take action.  We'll immediately email you links to assist in your areas of interest.
Connect with NC colleges.  You can choose to share your contact information with NC community colleges and four-year colleges so they can let you know more about their programs.
Take six steps toward college.  If you are considering a community college or four-year college, you can enroll in the online program to gain exclusive access to a set of self-paced online activities to help you take six important steps ahead of your senior year. You'll be guided through the steps with interactive videos and action items, along with special content for parents.
Next Step Overview Video
Preview of Optional Next Step Online Program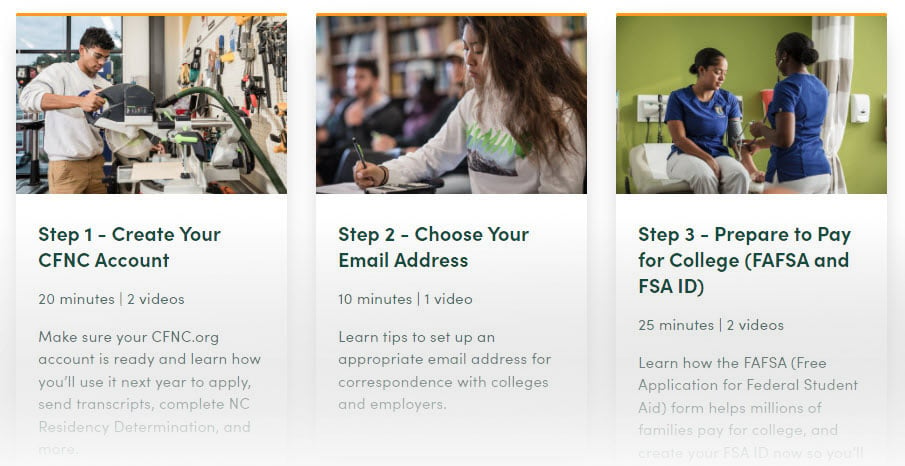 The self-paced Next Step online program walks you through six steps to get you started on your higher education journey.
During the process, you will:
Learn how CFNC.org can help you explore options, and create your free account to get started.
Determine the best email address for communicating with colleges and employers.
Learn about financial aid and the FAFSA, and get started on the process of qualifying for aid.
Learn about majors and degrees available at different colleges.
Research college options to find your best match and fit.
Narrow down the list of colleges where you'd like to apply.
Take a few minutes today to complete the Junior Next Step Form (available through November 2023).
Junior Next Step Form