Student Loans 101: How Federal and Private Student Loans Work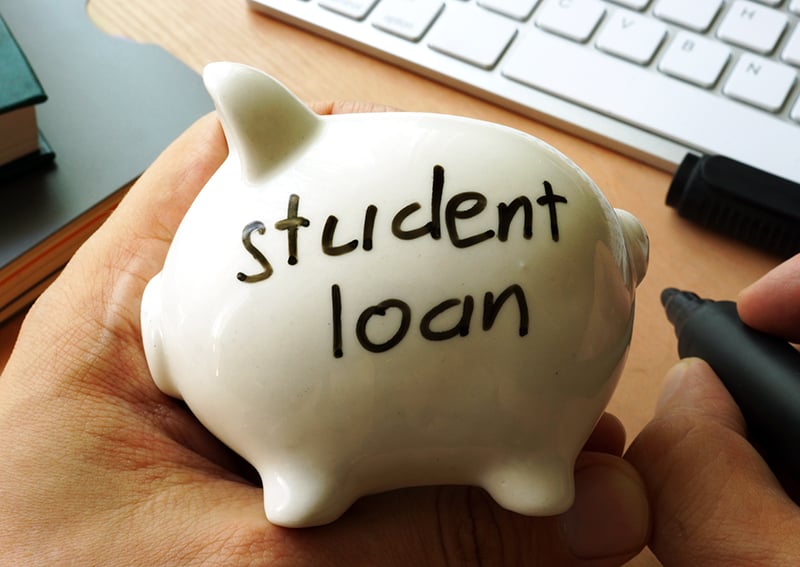 There are a lot of questions when it comes to paying for college. Perhaps the biggest one is how you're going to afford it. For most students, this means taking out student loans to invest in their futures.
It's important to understand that there is no shame in using student loans to pay for college. That's what they are there for! In fact, more than half of students graduate or leave school with student loans. Studies show that 69 percent of college students in the class of 2019 took out some kind of student loan.  But it's really important to do your research first and borrow smart to ensure that you can repay those loans when the time comes.
Even after you've used all the free money available to students, you may still need something extra to cover the gap. But how do you find the right loan for you?
It's important to understand the difference between federal loans and private loans, how to apply for them, and what you need to know when it comes to paying them back. Here's your primer on how student loans work and everything you need to set yourself on the path to academic success.
What is the Difference Between Federal Student Loans and Private Student Loans?
The difference between federal student loans and private student loans may seem self-explanatory, but there are other considerations to think about as well when finding your student loan. Let's start with the obvious.
As you may have guessed, federal student loans are made by the United States government. Federal student loans have very specific terms and conditions set by law. Because federal student loans are backed by the federal government, they are sometimes able to offer low interest rates for borrowers.
There are two distinct types of federal student loans: subsidized and unsubsidized student loans. Knowing the difference between these two types of loans can make a big difference when it comes to paying for college.
Nonfederal loans, or private student loans, are made by private organizations such as a bank, credit union, state agency, or a school. This type of loan will have terms and conditions that are set by the lender.
How Do Subsidized Student Loans Work?
Subsidized federal student loans (also known as Direct Subsidized Loans) are student loans from the federal government that are available to undergraduate students based on their financial need. A student's financial need, as determined by the FAFSA, helps to set how much a student may borrow.
The greatest benefit of the direct subsidized loan is how interest on your loan is handled. With a subsidized loan, interest is paid by the U.S. Department of Education, provided you are enrolled in an eligible school at least half-time.
What's more, with a subsidized loan, you get a grace period for the first six months after leaving school. This gives students less to worry about in school, so they can focus on studying while also saving money in the long run.
How Do Unsubsidized Student Loans Work?
The other side of the federal student loan coin is the direct unsubsidized loan. Different from subsidized loans, unsubsidized loans are available to both undergraduate and graduate students. Furthermore, you are not required to show financial need for an unsubsidized loan.
That said, your school will decide how much you're allowed to borrow, depending on the cost of attendance at your institution, and subject to federal loan limits that have not increased since 2008. Your school will also take any other financial aid you receive into account when determining the amount.
The biggest difference with an unsubsidized loan is how interest is handled. Unlike subsidized loans, the Department of Education does not pay the interest on your loan while you are in school. Interest will begin accruing on your loan the moment the money is disbursed.
While the interest will continue to accrue while the student is in school, you aren't required to begin making payments until you leave school or attend less than half-time.
However, any interest you choose not to pay while in school is capitalized at the end of the year. That means the interest that built up is added to the principal (total amount of your loan). When interest is calculated, it will be applied to a larger amount than if you had paid the interest during your grace period.
Capitalized interest can add up quickly and lead to students paying back significantly more than they borrowed. This is why you may want to consider paying off student loan interest while you're still in school.
How Do I Apply for Federal Student Loans?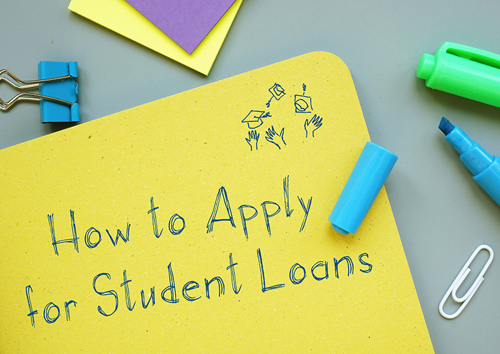 Maybe the best thing about federal student loans is how easy it is to apply for them. You have applied automatically for federal student loans when you complete the Free Application for Federal Student Aid (FAFSA).
Once you've submitted your FAFSA, your college or university will send you a financial aid offer that will also include any federal student loans for which you may be eligible. Reach out to the financial aid office at your school to learn more about your loans and how to claim them, but know that you are not required to take the loans that your school packages.  You can always research other options that may be cheaper for you or your parents.
How Do Private Student Loans Work?
Now that you have a better idea of how federal student loans work, it's time to explore private student loans. Private student loans are created and served by private institutions such as banks, lenders, nonprofits, and many other organizations.
Unlike federal loans, the terms for these loans are set directly by the private institution. That means there's a lot of variation between terms and interest rates on different private student loans. That's why it's important to consider your student loan options carefully to make sure you're picking the right one for you.
Private Loans Bridge the Gap Between Other Financial Aid and the Cost of Attendance
Private loans can be valuable tools in helping students and families bridge the gap between their financial aid and the cost of attendance at their school. Private student loans are not determined based on financial need. Instead, they are based on the cost of attendance at your school, minus any other financial aid (including any federal student loans you may have received).  Given the federal loan limits, many students find that they need to supplement with private or alternative loans to cover the full cost of college.
How Do I Apply for Private Student Loans?
The application and approval process for private student loans is also different from federal loans. We established that federal loans are applied for when you submit the FAFSA. With private loans, you will need to apply for each student loan individually through the provider.
Because you're picking the private loan and applying for it yourself, it's more important than ever to know exactly what you're signing up for. There are many private student loans out there, and not all private student loans are created equal. It is crucial that you carefully do your research to find the loan that works best for you and your family.
How Your Credit Score and Interest Rate Impact Private Student Loans
Once you've applied for your private student loan, you will receive approval based on several factors, your credit score chief among them. Many students, especially those right out of high school, may not have had the opportunity to build a strong credit score. Thankfully, there are things students can do to improve their credit score and increase their chances of qualifying for a competitive student loan.
Due to credit score requirements, some students may need a co-signer to qualify for the best private student loans. A co-signer is someone close to you (often a qualified relative) who has a stronger credit score and agrees to be just as responsible for your loan as you are.
Your credit score will not only determine whether or not you get the loan, but, for certain loan programs, it may also help to determine your interest rate. Interest rates for private student loans are not determined by the federal government. This means that interest rates can vary greatly depending on the loan. In fact, some private lenders charge interest rates higher than 10 percent!
Selecting the right student loan from a trusted nonprofit lender, like NC Assist, can help ensure you find the help you need to pay for school without weighing yourself down with a high interest rate. The fixed interest rates on an NC Assist student loan are even competitive when compared to federal rates!
Apply for Your NC Assist Loan to Bridge the Gap for College
Don't stress when it comes to student loans. There are plenty of North Carolina student loans to help you pay for school and turn your dream of college into a reality. The NC Assist student loan is provided through College Foundation, Inc., your North Carolina nonprofit lender committed to the dream of college for everyone. With competitive fixed rates and no fees, it's no wonder why so many people use NC Assist as their private loan option when bridging the gap to pay for school.
Go Back to News