North Carolina In-State Tuition: How to Estimate Costs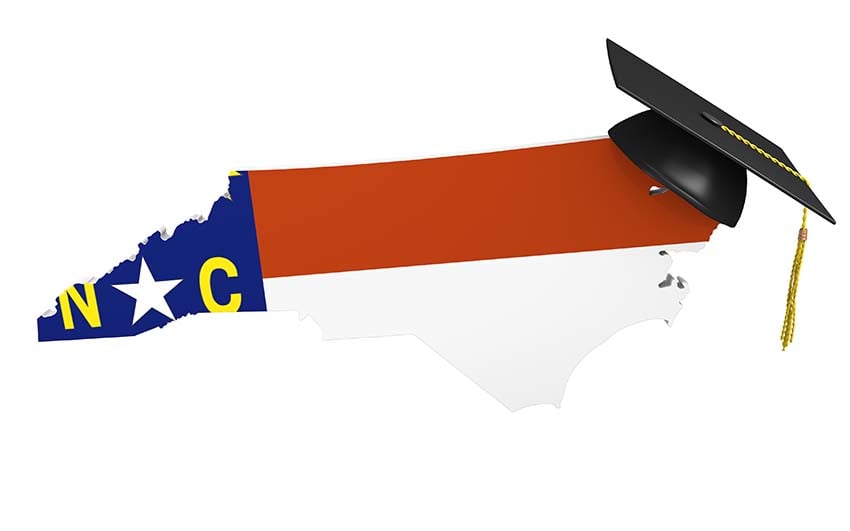 What will in-state tuition cost in North Carolina when your child attends college? Here's how to estimate costs and how to get the best return on investment.
Planning for college is one of the most important, but stressful, financial situations families encounter. It can be tough to predict tuition increases when there is more than a decade before a parent's child applies for college. Even armed with the knowledge that planning and saving early is the best strategy, students and families are often left wondering how much they will need to save. That is the case around the country and for North Carolina families as well.
While it is impossible to see into the future, we can glean certain insights from current costs and recent trends in tuition prices. As many families opt for the financial benefit of in-state tuition at public institutions, let's focus on those costs and where they might be in the coming years.
How Much is North Carolina In-State Tuition?
The average cost of North Carolina in-state tuition and fees in 2020 was just over $3,500 per semester. However, that figure can vary widely across the range of higher education opportunities in the state. There are so many options for students and families - from large four-year public schools to smaller community colleges.
According to the latest data from the National Center for Education Statistics (NCES), the average cost of in-state tuition and fees at four-year public schools was $7,174 for the 2018–19 school year. At two-year public schools, the average in-state tuition and fees were about $2,504.
What Increases Can I Expect?
While those figures help families begin picturing the outlook for their financial planning, one of the toughest factors when trying to fund a child's college education is predicting where those tuition numbers could be when the child actually attends college.
For many parents, saving for college - or at least the thought or preparation to do so - begins when the child is born. That leaves nearly two decades of guesswork and planning for a financial target they can't see until it is right in front of them.
One way to clear up that picture is to apply the past tuition trends to the coming years. On average, according to the NCES, North Carolina in-state tuition at four-year public schools has increased by about two percent each year for the past five years. Using those numbers, you can make an educated guess on what tuition costs may be in about 15 years when your student is in high school, preparing to begin the college application process.
Let's use that 2019 four-year public school in-state average of $7,174 per year to break down some possible tuition costs in the near future, increasing by two percent each year.
In five years (the 2023–24 school year) - $7,920
In 10 years (2028–29) - $8,744
In 15 years (2033–34), when a student born in 2019 or 2020 might begin looking at colleges - $9,654
Of course, these figures would be rough estimates and could certainly change due to a variety of factors. Tuition increases happen for several reasons, such as federal or state funding changes or simple inflation. It's also important to remember those figures were for one specific type of school. There are many options for every student—some more affordable and some more expensive.
Even though there is no exact answer for the coming years, it helps to be prepared for what the future may hold.
What Is the Best Way to Save?
No matter what happens with tuition prices in the future, one thing is certain; families need to plan as early as possible.
When starting a family and entering children into the equation, the looming costs of college tuition can be overwhelming. And that's before considering the total cost of college when factoring in things such as room and board.
Though it may be overwhelming, the key is understanding paying for college is not impossible. Start with $25 and contribute as you can. Don't forget that other family members can contribute as well!
The earlier families plan and begin saving, the more realistic these goals become. In North Carolina, there are several financial planning options when it comes to college expenses, from 529 plans to custodial UGMA/UTMA accounts.
But the earlier, the better. If you choose to open a 529 account, for example, checking on your North Carolina 529 Plan performance will be much less stressful knowing you have a head start or have time to catch up.
There are also several grants, scholarships, and opportunities for need-based aid to help students attend their preferred school.
As families prepare to fund a child's college education, it pays to be motivated, prepared, and excited about the possibilities each student can access with the right plan.
Go Back to News