College Financing: How to Pay for College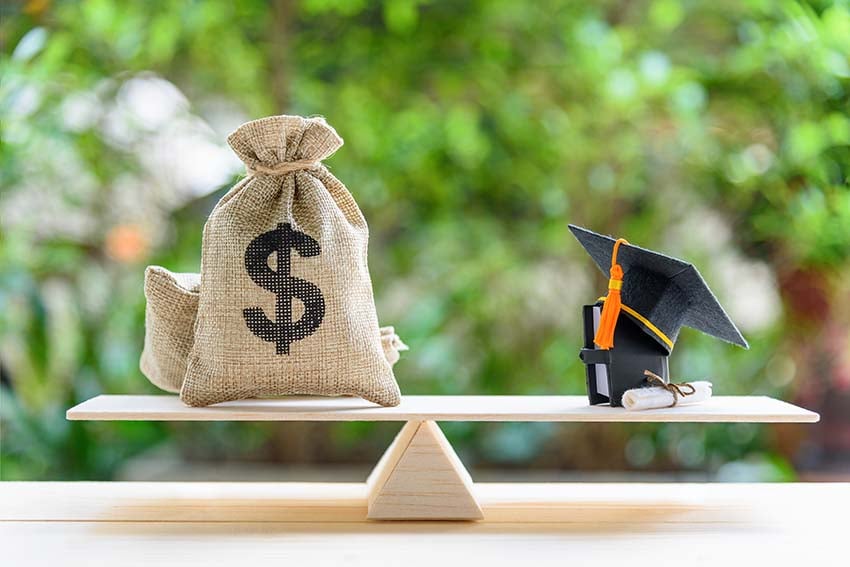 Every family has its own unique financial situation. Some parents have been saving for college since their child was born. Others have not been in a position to save much money at all. However, no matter how much money has been saved (or not saved), chances are, families did not set aside quite enough money to completely cover all those college bills.
For most families, paying for college is a team effort between the parents and the student. From savings and financial aid to scholarships and loans, it's important to consider all the college financing options to help students earn their college degrees. The first place to start is with free money.
Start with FAFSA
Families must fill out the Free Application for Federal Student Aid (FAFSA) as the first step to finance college. FAFSA determines a student's eligibility for federal student aid, as well as some state and school aid. Each year, the U.S. Department of Education awards more than $122 billion in financial aid to help students pay for college.
Some of the money is given to students in the form of grants. Disbursement of grants is made based on a student's financial need, and that money does not have to be paid back. Even if a student does not qualify for a grant, FAFSA can help them qualify for work-study programs and federal student loans.
FAFSA opens each year on October 1. Students and parents should complete FAFSA for each year the student plans to be in school. A few months before school starts, the student's college or university will send them a financial aid award letter. It will detail any grants, loans, and work-study the student is being offered for the upcoming school year.
Appeal to the School for Additional Aid
If the financial aid offered by a school is not enough to pay for college expenses, families can appeal to the school's financial aid office for additional aid. This may be necessary if the family's financial situation has changed since completing the FAFSA. School officials may offer additional aid if a parent recently lost their job, or the family has experienced some other financial hardship.
Start by contacting the financial aid office to find out their process for filing an appeal. The sooner any additional forms and documentation are filed, the sooner the student will know if they will receive additional aid.
Scholarship Search
Another great source of free money is scholarships. It can be a time-consuming process to search for scholarships and fill out applications, but it's worth the time and effort!
Winning just a couple of small scholarships could add up to big bucks, and remember, scholarships don't need to be paid back. Check out our online search tools to find available scholarships and entry requirements. To get started, here are some easy scholarships students shouldn't overlook.
Student Summer Job Hustle
Don't underestimate the ability of college students to contribute to their education. If they can't find a full-time job for the summer, consider finding more than one part-time job. They can work the morning shift at a coffee shop and pick up hours in the afternoon at a local grocery store. Every penny they can save over the summer will come in handy during the school year.
Apply for Loans
Once students and parents calculate how much money is available from savings, financial aid, and scholarships it may still not be enough to cover all of the student's college needs. At this point, it may be good to consider a student or parent loan. Federal loans are provided by the government. Private student loans are offered by banks, credit unions, online lenders, and certain nonprofits.
While there are deadlines to apply for federal loans, application deadlines for private loans are more flexible. If the student incurs an unexpected expense in the middle of the school year, they can still apply for a private loan for the spring semester.
NC Assist is a private loan offered by College Foundation, Inc. (CFI), which is a nonprofit lender. NC Assist loans are available to students and parents. These loans have fixed rates and no fees. Loans are available to North Carolina residents attending in-state and out-of-state schools and to other United States residents who are attending an eligible institution in North Carolina.
Consider all the expenses and the college financing options to fully understand how much the student needs for each school year. They don't want to take out loans they don't need right away. Still have questions? Check out the FAQ page for more information.
Go Back to News